Becoming a LITRG volunteer
There are three primary charities in the UK where tax advisers can give a little back to the community by using their tax knowledge to help people on low incomes.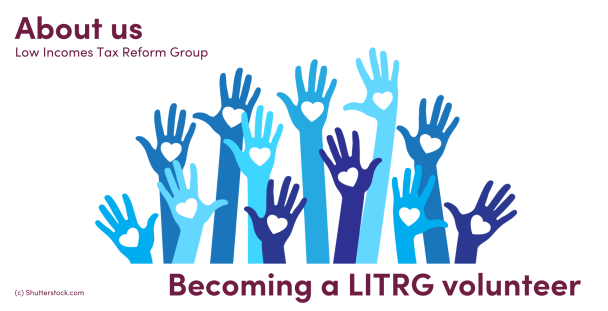 Low Incomes Tax Reform Group (LITRG)
LITRG is an initiative of the Chartered Institute of Taxation (CIOT), and the CIOT is an educational charity.
LITRG's volunteers provide support on consultation groups, in research and in contributing to our writing.
Our volunteers have a range of experience, from the tax profession (both practice and former HM Revenue & Customs (HMRC) staff) to those without a tax background but a keen interest in helping low-income people to understand their financial situation – for example, those working in the general voluntary sector advice field who have come across the complexities of tax and benefits interactions.
⚠️ Please note: We have limited time to enrol new volunteers at present. If you are a CIOT member, you might therefore wish to instead offer to volunteer for a Technical Committee, or for the branch network.
TaxAid
TaxAid runs a national telephone helpline service, an email help facility and some face-to-face advice sessions for people on low incomes.
Find out more about their service on the TaxAid website, which includes a page detailing current volunteering opportunities.
TaxHelp for Older People
TaxHelp for Older People is a free confidential service providing tax advice for people over 60 on low incomes who cannot afford to employ a professional tax adviser.
They provide advice over the telephone but they also provide face-to-face help at local offices of bodies such as Age UK or Citizens Advice. Home visits are made if need be.
Their website gives more information, including how to volunteer.
Other opportunities
Tax lawyers can look for specific opportunities to volunteer in the pro bono legal community. More information can be found on the website of LawWorks.