Updated on 30 November 2023
At the beginning of 1998, LITRG called for volunteers to help fulfil our mission and was gratified by the response. The current members of LITRG are set out below. You can find out more about volunteering for LITRG on our Becoming a volunteer page.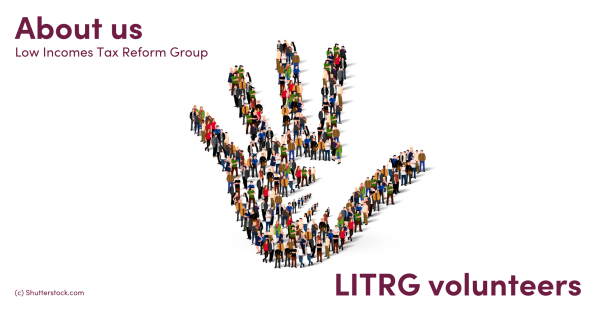 If you are looking for a more 'hands on' volunteering experience, directly helping the public with tax queries then you may want to have a look at the TaxAid or Tax Help for Older People websites for their current volunteering opportunities.
John Andrews: Past President of the Chartered Institute of Taxation and founder of LITRG
Stephen Banyard: Chair TaxAid Trustees, former HMRC Director General Personal
Leonard Beighton: Former Deputy Chairman, Board of Inland Revenue and former trustee of Tax Help for Older People
Valerie Boggs: Chief Executive of TaxAid/Tax Help for Older People
Dr Sara Closs-Davies: Researcher & Lecturer at Bangor University, Chartered Tax Adviser and qualified FCCA accountant
Larry Darby: Former tax partner with PWC
Andrew Dickson: Solicitor, Chartered Tax Adviser and a qualified member of the Society of Trust and Estate Practitioners (STEP)
Glyn Fullelove: Glyn has worked for over thirty-five years in tax and is a Chartered Accountant as well as a Chartered Tax Adviser. He held Head of Tax roles at four UK quoted FTSE companies. Glyn has been active as a volunteer at the Chartered Institute of Taxation for twenty years and chaired the Technical Committee from May 2016 until he became President of the Institute in May 2019, a post he held until November 2020. He now writes on the taxation of large business for Croner-i and is an Independent Advisor to HMRC's Professional Standards Committee.
Martin Hodgson: Former regional director of the Inland Revenue; past Chair of Tax Help for Older People
Roger Holman: Chartered Tax Adviser in practice
Donna McKenney: Tax Help for Older People
Nikhil Mehta: Barrister, Gray's Inn Tax Chambers, CIOT Council member and CTA(Fellow)
Caroline Miskin: Technical Manager, ICAEW Tax Faculty. Formerly Technical Director TaxAid
Sam Mitha: Former HMRC Deputy Director of Central Policy
Jane Moore: Former Technical Manager and editor of TAXline at the ICAEW, and former Technical Director of TaxAid
Tina Riches: Former National Tax Partner at Smith & Williamson and former Director, Technical at the CIOT. Volunteer at TaxAid and Bridge the Gap
Anthony Thomas: Former Chair of LITRG and past President of the Chartered Institute of Taxation and member of the CFE's General Assembly