The government is keen that people use the GOV.UK website for all of their searches relating to tax and benefits. Here we help you understand how to best try and find what you need.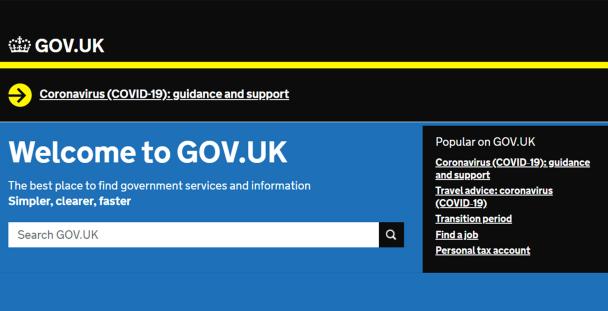 What information will I find on GOV.UK?
GOV.UK is the website to use to find government services and information.
Through GOV.UK, government departments, including HMRC, provide all their information in a central point.
The material on GOV.UK is intended to be simple and clear. Although GOV.UK works closely with every government department on the content, you need to be careful, because sometimes the information or guidance it gives is over-simplified or inaccurate.
As such, whilst it has to be recognised that no amount of guidance can be a substitute for individual advice, if you have an unusual or complex situation, you may wish to seek to confirm what you have understood from GOV.UK, with another source.
LITRG produce a range of information and guidance on tax issues – you can find this in the tax guides section.
You can also find all of the HMRC Manuals on GOV.UK. The Manuals contain HMRC's interpretation of the law and an insight as to how certain matters are dealt with.
How do I search on GOV.UK?
As GOV.UK is the website for all government services, there is a lot of information on it – hopefully the tax information you need will be clearly signposted from the HMRC part of GOV.UK but if not, there is a search facility which may help you find the information you are looking for.
Try to be as specific as you can, for example if you know the tax refund form you need is called 'P87', search for the form number, rather than 'tax refunds'. To narrow down the results, you can filter them.
When using GOV.UK, you should always keep a copy of information on which you might later need to rely, by printing or saving a copy of the webpage or taking a screenshot. We explain about the extent to which individuals can rely on government information in our news piece: Use government advice wisely.
Always try to use GOV.UK to search for government information or services rather than use a generic search engine such as Google. This is because results from generic search engines will often bring up unofficial as well as official websites. This can include copycat websites that charge for services that the government offers for free.
If you prefer to use a generic search engine, try including the term "site:gov.uk" in your search. This will exclude copycat websites. Otherwise, please be aware that some such websites may pay for advertising space so that they appear at the top of search engine results. The difference between 'Ads' and organic search results isn't always clear, so be aware of this (and other signs of legitimate websites) when you are online and searching for official information or services.
If you are disabled, information about the accessibility of HMRC's documents can be found on GOV.UK. Also on GOV.UK is information more generally about accessibility including commentary about screen readers and speech recognition systems.
How can I locate old information from GOV.UK that has since been updated?
As we explain in our news piece: Has GOV.UK gone wrong for you?, there can be a particular issue with GOV.UK as it is being updated and rewritten all the time. But if you saw something before and it's not there now, you can track down old GOV.UK pages should you need to.
Old content on GOV.UK is kept as a public record for permanent preservation in the UK Government Web Archive (UKGWA). It regularly takes copies (snap shots) of whole websites including GOV.UK, meaning that people can see how they change over time – and locate information no longer available on the live website. Snapshots of GOV.UK going back to 2012 can be found here.
You can often use and browse archived websites as you would a live website. However, due to technical limitations in the software that captures website content, some functionality is not available in archived versions of sites. For example, the original GOV.UK built-in search facility will not work, which may hinder you finding the old page that you want. But if you know roughly where the information that you viewed previously was located, you should be able to navigate a path to the page that you are looking for from the home page. So, for example, if you wanted to see the original instructions for claiming the marriage allowance, you might search in early April 2015 because the allowance first became available from 6 April 2015. Clicking on the archived content for 18 April 2015 shows some categories to look in. Choosing 'Money and tax' gives a further menu from which marriage allowance can be found.
If you hit a dead end using this method, there is also the UKGWA full text search service which searches the text of webpages lodged in its archive. You can search using key words, or you can perform narrower searches. For example, you can exclude certain terms from search results or restrict the search so that only results from archived versions of a particular website are displayed. If you want to do this for GOV.UK, where it says 'only within this website' type 'www.gov.uk' in the box.
Because of the size of the archive and because the archive often holds multiple versions of web pages harvested over different dates, such searches can produce a lot of results. You can find the UKGWA's in-depth guide for searching the web archive here, which may help you limit the amount of 'noise' you get and locate the content.
Ideally though, as mentioned earlier, the best thing you can do when using GOV.UK is always to keep a copy of information on which you might later need to rely, by printing or saving a copy of the webpage or taking a screenshot. However, we recognise that this isn't always going to happen in which case, the web archive facility described here becomes a useful fall back.
What about specific websites for Wales, Scotland and Northern Ireland?
GOV.UK is the main place you will find information posted from HMRC.
If you live in Scotland, you may also find the Scottish Government's website helpful. There is also the mygov.scot website that gives you access to public services in Scotland.
[JW1]https://www.mygov.scot/
If you live in Northern Ireland, you may find NI direct helpful.
If you live in Wales, you may find the Welsh Government's website helpful.
As with GOV.UK, if you use any of these websites as a source of information, we recommend that you print out or save a copy of the relevant webpage and keep it somewhere safe, in case of a later dispute.