Don't get caught out by fake HMRC phone numbers
⚠️ This is a news story and may not be up to date. You can find the date it was published under the title. Our Tax Guides feature the latest up-to-date tax information and guidance.
Don't get caught out by fake HMRC phone numbers
Published on 10 February 2016
We have recently noticed an 0844 'HMRC helpline' number being advertised on the internet, which is not a real HMRC helpline number. Calling it will get you through to HMRC – but possibly at an inflated price. We urge caution for anyone searching for HMRC numbers online and recommend once again that the Government consider introducing a kitemark to identify genuine Government websites and numbers.
Misleading online adverts and services involving HMRC are common. Websites that trick people into paying over the odds for Government services that are often free are so prolific that in 2014, Google stopped such sites from being able to buy space above the search results for official non-paid for government links. However there are gaps in the safety net for the unwary and it has recently come to our attention that if you google 'phone HMRC' on some smartphones, you will probably see a boxed advert for an 0844 'HMRC helpline' number close to the top of the results. But this is not a genuine HMRC helpline number that appears on the HMRC contact us page.  
While you will get straight through to HMRC by phoning this number, it is likely that it belongs to a third-party call connection service and so could cost more to call than the real HMRC phone number. It is a particularly misleading advert, because the link embedded in it does take you to the genuine GOV.UK site. While the adverts around it are more clearly commercial, if you didn't know precisely what you were looking for or were rushing, you might not realise that something was amiss. The only indication that this may not be a 'real' HMRC number (meaning one issued by HMRC) is a note underneath saying 'additional charges may apply':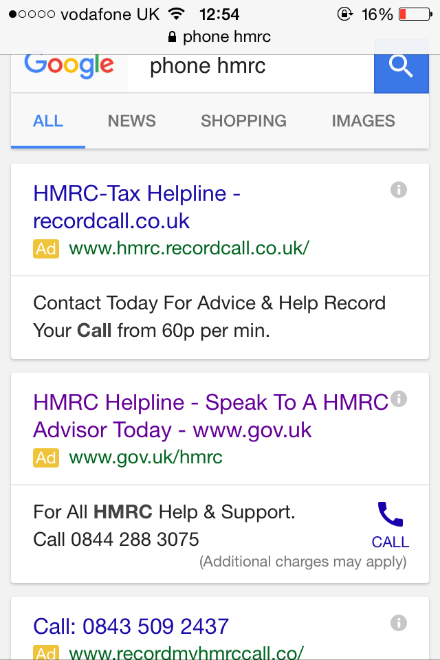 Interestingly, from what we have seen this only seems to happen on a smartphone. These adverts do appear to have been switched off when viewing 'normally' – on a laptop or desk-top computer for example. This however is no solace to the millions of people, (mostly young people) who, according to Ofcom, mainly use their smartphone to get online.   
The main HMRC helpline numbers are now 0300 numbers – this means that calls should cost no more than calls to geographic (01 and 02) numbers and must be included in inclusive minutes and discount schemes in the same way. The cost of calling an 0844 number is made up of two parts – an access charge which goes to your phone company and a service charge set by the organisation you are calling. The service charge for calls to 084 numbers is between 0p and 7p per minute. 
Of course, people can avoid getting caught out by going to GOV.UK and using the search function there as encouraged by the Government Digital Services department in their 'StartatGOV.UK' campaign. However, searching for 'phone HMRC' within GOV.UK itself returns 573 results – none of which, on the first few pages anyway, take you to the HMRC 'contact' landing page – which is, in itself, unhelpful. 
Until this search function is improved, people will continue to rely on Google searches which opens them up to misleading advertising.
We are therefore renewing our call for a government website 'kitemark' to help prevent people being caught out by copycat businesses and services. This will ensure that the public are protected.  
We will, naturally, be passing our findings and thoughts on to HMRC, however in the meantime, we would like to remind people that official government sites will never appear in boxed adverts and to please – be cautious when searching online.  
(10-02-2016)
Contact: Meredith McCammond (please use form at /contact-us) or follow us on Twitter: @LITRGNews