Check your coding notice carefully!
Check your coding notice carefully!
Published on 18 July 2017
From the end of June, HMRC have slightly changed the way they collect underpayments of tax from employees through PAYE (Pay As You Earn). Where the underpayment of tax is an estimate for the current year, you should be able to delay having that taken from your pay, if that would cause you financial difficulty.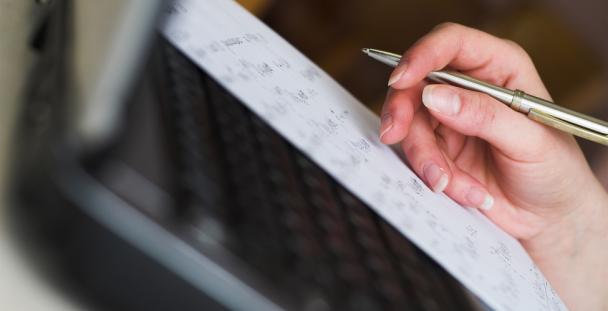 Until now, HM Revenue & Customs (HMRC) have tended to collect underpayments of tax only after the tax year has ended. But from the end of June they have made changes to the PAYE system that allow them to estimate the amount of tax that may already have built up during the current tax year – and to arrange that that underpayment be collected from your pay over the remainder of the tax year. While this should result in more people paying the correct amount of tax by the end of the tax year, if you receive a coding notice that includes an estimated underpayment for the current tax year you should check carefully that you understand why HMRC believe there is an underpayment and review whether you think the estimate is accurate.
Why might you have an underpayment of tax for the current tax year?
There are several reasons. For example, you may have changed job or started to receive a pension and the payer was unable to obtain a correct code number for you, resulting in an emergency tax code being used.
Another common reason is that HMRC have just become aware of a taxable state benefit being paid to you. For example, you may have started to receive the state pension in May 2017, but HMRC have only been able to include it in your code number from July 2017. Although tax is not deducted at source from taxable state benefits such as the state pension, income tax is due and it is often collected by restricting the tax-free pay you get from your other employment or pension income.
Sometimes, your employer may have just advised HMRC that you had a benefit in kind in the last tax year and HMRC assume that the benefit is continuing. For example, your employer may have provided you with private healthcare insurance in 2016/17 for the first time. In that case, unless you told HMRC about it, you will not have paid tax on the benefit  for 2016/17 and, in addition, you will not have started to pay tax on it for the current tax year 2017/18. This means you will have underpayments of tax both for the tax year that has just ended and for the current tax year.
It may be that your employer has not applied the code number to your earnings that HMRC told them to use. This can happen when HMRC do not provide your employer with sufficient time to update your code number before the payroll is processed. Your employer should be able to correct the code number the next time they run payroll but that could still leave an underpayment for one pay period. On the other hand, if your employer has operated an incorrect code number for a number of pay periods, you may wish to query whether your employer, rather than you, should be liable for any underpayment. In this situation you should contact HMRC and ask them to investigate.
What should you do if you have underpayments included in your PAYE code number?
First, you should check which year the underpayment relates to.
If the underpayment is for a year up to and including the tax year 2016/17, HMRC should already have notified you of the underpayment by issuing a PAYE tax calculation (form 'P800'). You can read about dealing with underpayments notified by a form P800 in the 'Employed' section of our website.
Where the underpayment relates to the current tax year 2017/18, you should check you understand how the underpayment has arisen and that the estimate appears reasonable. If you cannot agree or you require further assistance you should contact HMRC.
Once you have agreed the amount of the estimated underpayment for the current year, you can choose to leave it in your code, meaning you are more likely to have paid the correct amount of income tax by the end of the tax year.
If you feel you cannot afford to pay back the underpayment for the current tax year through your pay or pension, you should contact HMRC and ask for this underpayment to be removed from your code number. Bear in mind, though, that this is not making the underpayment go away – it is simply making the payment date later. In fact, HMRC would normally place the full underpayment into your code number for 2018/19. If that would cause you hardship too, you can ask them to collect the underpayment over a longer period, normally over a three year maximum period.
(18-07/2017)
Contact: Gillian Wrigley (please use form at /contact-us) or follow us on Twitter: @LITRGNews
Share LITRG news and guidance