Do you need to phone HMRC? Read this first!
⚠️ This is a news story and may not be up to date. You can find the date it was published under the title. Our Tax Guides feature the latest up-to-date tax information and guidance.
Do you need to phone HMRC? Read this first!
Published on 9 October 2017
LITRG are aware that people are still being misled into using call connection or call record services when trying to contact HMRC. If this has happened to you, you should consider making a complaint to the Phone-paid Services Authority (PSA). Here we give you more information, and offer you some advice on how to get through to HMRC's helpline advisers – directly.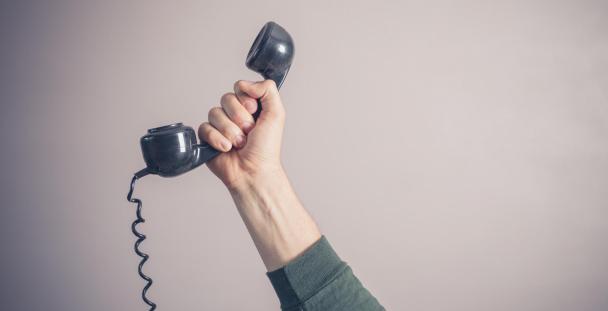 'Call connection' services offer connection to organisations sought by consumers, such as HMRC. They often advertise on search engine result pages and their Ads are often the first things seen – above any official government links.
So, what do call connection services offer? Well basically, they connect you to the organisation that you want to speak to – but that is it. Some offer the 'added value' option of downloading a recording of the phone call. This may lead people to believe that organisations like HMRC do not record calls you make to them, but they generally do and we explained in an earlier news article how to get hold of a recording from HMRC if you need it, for free.
The services offered by call connection companies generally come at a premium. For example, a call could cost £3.60 a minute. This is a hugely inflated price in comparison with a direct call to an HMRC 03 number – which should cost no more than calls to geographic (01 and 02) numbers and must be included in inclusive minutes and discount schemes in the same way.
Sometimes you may not even realise you have used a call connection service until you receive a high phone bill, this is because it is not always obvious that you are dialing a third-party number.
The PSA, which is approved by Ofcom as the regulator of phone-paid services in the UK, regulates both call connection services and call record services. In addition to a case we commented on earlier this year, the PSA has recently acted against another business offering these 'ICSS' services (information, connection and / or signposting services) noting that 'high levels of revenue had been generated and widespread harm had been caused to consumers due to the highly misleading consumer journey they had experienced'.
If you feel that you have been misled, it is very worthwhile complaining to the PSA.
All companies offering phone-paid services must register with the PSA and operate to the standards set out in the code of practice. This includes being upfront about the service they offer and the cost, treating consumers fairly, complying with the law, not causing harm or unreasonable offence to consumers and resolving consumer complaints quickly. Where companies fail to meet these standards, the PSA have various ways of dealing with the matter, including taking the call connection company to a Tribunal where sanctions can be imposed that range from ordering a provider to issue refunds to consumers to imposing a fine or barring the running of a service.
Help with contacting HMRC
 
GOV.UK, rather than an internet search engine, is the place to go if you need to search for information about any government department or service. All of HMRC's main contact numbers are available in one place on GOV.UK under 'Contact HMRC'. 
Once you have the number you need, sadly, this is not always the end of the story. With HMRC's voice recognition system in place, we appreciate that it can sometimes be a frustrating experience – indeed, a recent report looking at customer experiences of the system highlighted that while the system worked well overall there are still a number of difficulties for users. We very much hope that HMRC will take note of the recommendations in the report.
In the meantime, we share some hints and tips to help you cope with the system. However, it is also worth pointing out that you can increasingly contact HMRC online, for example via the personal tax account or via webchat. This may mean that you can bypass the phones altogether!
Hints and tips for calling HMRC
Preparing to call:
1) Get all the details that you may need ready before you call, such as:
National Insurance number,
self-assessment tax reference,
employer reference number,
copies of the most recent letters you have received,
details of any dates you may have started or stopped something (for example, the date you stopped work).
2) Try to call when there is not too much background noise. Calling from a busy train station or when the television is on for example, could distort the information heard by the speech recognition system.
3) You will be asked the reason for your call, which you should try and state in a few words. However, condensing your reason for calling into a short phrase or statement can be easier said than done, so you may want to prepare a few words before you dial the number (and have an alternative just in case the system does not pick up your first attempt). For example, 'SMP' or 'Maternity pay' is sufficient. There is no need to say, 'I am calling to query my entitlement to statutory maternity pay'.
4) You may be offered a web address to look at where you will find general guidance relating to your query, so have a pen and paper handy as you may want to jot this information down. We know that people find this stage particularly annoying, particularly if they have already tried to look online, but there is no way to skip this stage.
During the call:
5) Talk at a steady natural pace, do not rush, shout or speak too slowly. The system has been widely tested on all regional accents so there should not be any need to change the way you normally speak. However, if English is not your first language or you have trouble making yourself understood for another reason, you may find HMRC's information for those with additional needs helpful.
6) To give dates, clearly say the date, month and year. For example, 'twenty first July nineteen eighty nine' or 'Fourteen zero nine nineteen sixty seven'. Similarly, to say amounts, speak clearly and normally. For example 'twenty-five pounds and thirty pence'.
7) The system will recognise common abbreviations and acronyms. For 'PAYE' both 'p a y e' and 'Pay as you Earn' will be recognised. If your call concerns an actual form then you can name it – P2, P800, SA302 – as the system should recognise these also.
8) The system will offer confirmation of what you have said. It will 'ask again' if it is unsure or needs further clarification. If the system is still struggling to pick up what you are saying, it will revert to a push button menu for ease, for example press 1 for self-assessment, 2 for refunds and so on. The system should always offer you a 'something else' option, if none of the preceding categories are appropriate.
9) Depending on the nature of your query, you may also be asked some security questions by the system to verify your identity. This should mean you do not have to do it again when you get through to the adviser.
After your call:
10) ALWAYS write down the date and time of your call and the name of the adviser you spoke to. It is wise to note also key actions that you or HMRC agreed and any due dates too.
The good news is that once you have got through to HMRC, they are usually friendly and genuinely want to help. Good luck!
(09-10-2017)
Contact: Meredith McCammond (please use our Contact Us form) or follow us on Twitter: @LITRGNews