Shopping online – beware of additional tax charges
⚠️ This is a news story and may not be up to date. You can find the date it was published under the title. Our Tax Guides feature the latest up-to-date tax information and guidance.
Shopping online – beware of additional tax charges
Published on 26 October 2017
Those on low incomes are often on the lookout for a bargain when shopping online. But LITRG have recently been contacted by someone who received an unexpected bill, having bought something 'cheaply' from the USA. This meant the item turned out to be more expensive than if he had just bought it in the UK. This is not the first time we have heard of this happening and it is clearly catching people out. So, what's going on?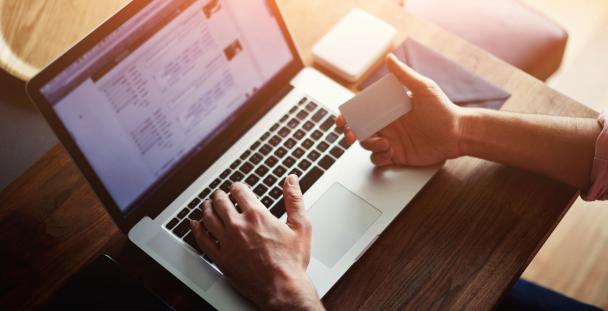 Generally, if you are buying goods online from within the countries of the European Union, then there will be no additional charges over and above the cost of the item and any postage/packaging fee. But, if you are buying goods online from outside the European Union and including countries such as China and the USA, then you may face additional charges including import customs duties and Value Added Tax (VAT).
Both of these are essentially taxes on the value of goods. The idea here is to bring the cost of imported goods up to the same cost as those produced within the EU to keep competition fair. However, this can make the goods much more expensive and can mount up to a large portion of the value of goods bought!
Those on low incomes need clarity and certainty when it comes to their hard-earned money, as even a small unexpected bill can cause big problems. But online market places often contain little information on whether anything is payable on top of the advertised price (or if they do, it is in very small print). So, to help online shoppers inform, navigate and protect themselves, LITRG want to set out the rules.
Let's look at VAT first
For a personal item classed as a gift you are allowed a £39 limit before having to pay VAT. In the strictest sense, this must be something sent from one private individual to another, with no money changing hands. Many sellers will mark a package as a gift in the hope that HMRC will pass the item through customs without inspection, but this is considered illegal and, in any case, is likely to fail – see the information on undervaluation below. If the value exceeds £39, VAT will be calculated on the full item value, not just the value above the allowance.
For any other items except tobacco, alcohol and fragrances, a very basic outline of the rules is:
There is no import VAT on goods worth less than £15. (Please note, many sellers try and under value the goods in the customs declaration to make use of this exemption, however this is something that the authorities are on the lookout for and it may result in seizure of the goods.)
If the value of goods exceeds £15, VAT will be calculated on the full value, not just the value above the limit.
The import VAT percentage rate is applied to the sterling equivalent of the item value (converted to pound sterling using the rates of exchange for the month of importation as shown on the HMRC website), plus the cost of transport, postage and packing, insurance and any duty that may be payable. The import VAT rate is usually 20%.
Customs duty
In terms of duty, items up to £135 (valued as the price paid for the goods, plus shipping cost, insurance, etc.) except tobacco, alcohol and fragrances are free of duty. For items over £135 it is worth contacting HMRC as the percentage rate usually depends on the type of goods and where they came from – for example we understand that books are always duty free, no matter what their value.
VAT and customs duty is payable on the full value of tobacco, alcohol and fragrances, even if below the limits noted above. In addition, excise duty is payable on tobacco and alcohol. You may have heard of a 'duty-free' allowance for tobacco and alcohol, but this is only for items that you personally bring into the UK with you – when you return from holiday, for example.
Basic information on VAT and duty can be found on GOV.UK.
Other costs
You may also have to pay a charge to the shipping/courier operators – often they will have dealt with the customs clearance process and paid the duty and tax charges on your behalf to ensure they can deliver your shipment as quickly as possible. But this incurs an administration fee. This may be set as a percentage of the value of the goods (e.g. 2.5%) – but may also be subject to a minimum fee – say £10 or £12. HMRC do not have any authority over the level of charges they apply.
Royal Mail and Parcelforce will usually ask you to pay them before you can receive your item. A postcard or letter will be delivered to your address, detailing the amount due and the options available for payment. Once payment has been made, the package may be collected from the post office or if you have paid online/by phone you can arrange for it to be delivered. They will normally hold your parcel for about three weeks. If you have not paid the fee by then, it'll be sent back.
For more detailed information on Royal Mail and Parcelforce processes, check out HMRC's: 'A guide for international post users'.
Other operators, such as Fed Ex, may deliver your item but send you an invoice later – do not rely on them not chasing you though – they are commercial businesses and will want to be paid. You should be able to find more information about different operators' procedures on their various websites.
All these different charges saw the person referred to in our introduction pay an additional £30 to buy something he thought was going to cost him less than £80 – which took the shine off of his new purchase somewhat! So, the basic message in all of this is to not get caught out – check for additional costs so that you can work out exactly how much goods will be and make an informed decision about whether to go ahead with your purchase.
(26-10-2017)
Contact: Meredith McCammond (please use our Contact Us form) or follow us on Twitter: @LITRGNews