Did you know that certain tax reliefs come with having a blue badge?
⚠️ This is a news story and may not be up to date. You can find the date it was published under the title. Our Tax Guides feature the latest up-to-date tax information and guidance.
Did you know that certain tax reliefs come with having a blue badge?
Published on 25 June 2019
People with hidden disabilities such as anxiety and dementia may be able to apply for blue badge car parking permits from 30 August 2019. Did you know that there are certain passported benefits that blue badge holders may be able to access – including tax reliefs that could mean a lower company car tax charge?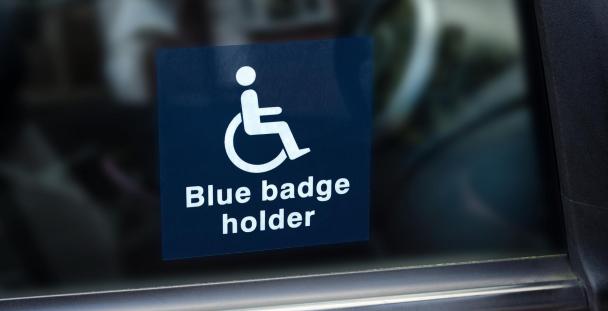 A GOV.UK news story explains the extension of the blue badge scheme to people with hidden disabilities such as anxiety and dementia, where they might experience very considerable psychological distress or be at risk of harm (or harming someone else) when walking.
Blue badges allow people to benefit from certain parking concessions. In addition, people who have a blue badge are often able to automatically access other concessions. For example, blue badge holders are able to claim discounts from the London congestion charge. But there are also special car benefit rule adjustments for blue badge holders which could mean they pay less tax.
The car benefit rule adjustments
If an employer provides an employee with a company car, they generally have to pay tax on the value of the 'benefit in kind'.
The taxable value of the car is based upon:
the dates when it is available for use;
its list price when it was new, plus the list price of certain optional extras; and
its fuel type and level of CO2 emissions.
Adjustments can sometimes be made to reduce these figures where a disabled employee uses the car. As these figures form the basis of the calculation of the tax charge, any reduction in them will reduce the amount of the taxable benefit too. The possible adjustments are summarised below.
A disabled employee (who holds a blue badge) can use the list price of the equivalent manual car if lower than that of the automatic car they actually drive (if the employee is required to drive an automatic car because of his or her disability). Similarly, a disabled employee can use CO2 emissions of the equivalent manual car if lower than those of the automatic car they actually drive.
Certain types of equipment included in the car to enable a disabled driver to use the car are disregarded when calculating the benefit in kind on car accessories. The equipment must have been in the car when the car was provided to the disabled employee to enable them to use the car. This relief is again only available to blue badge holders.
Example
An employee has use of a company car from 1 September 2019.
The car with manual transition, has recorded CO2 emissions of 97 g/km. The car, with automatic transaction, has recorded CO2 emissions of 118 g/km.
In the 2019/20 tax year, using the online company car calculator, (and assuming the same list price of £20,000), the company car benefit would be £2,739 for the manual version or £3,216 for the automatic version.
As this employee has a blue badge, their company car benefit is £2,739 – saving them tax of £95.40 assuming they are a basic rate taxpayer (that is, £3,216 less £2,739 @ 20%).
How do I secure the tax relief?
Employers are able to help eligible employees to secure their relief by submitting form P11D with the correctly adjusted company car details. So you should make sure that you tell your employer if you apply for a blue badge and have a company car.
If you don't think your employer has used the correct numbers on the P11D, then in the first instance, you should ask your employer to submit an amended P11D to rectify the error.
If for whatever reason this doesn't work, an employee inside the Self Assessment system could make an adjustment to the P11D figure in the tax return, accompanied by a relevant explanation in the additional information box.
Those outside Self Assessment should phone HMRC to inform them of the problem.
Other information?
There is a useful summary of the special car benefit rule adjustments for disabled employees in HMRC's Employment Income Manual.
The LITRG website provides more information on tax concessions for disabled employees.
A collection of government guidance on the blue badge scheme can be found on GOV.UK.
(25-06-2019)
Contact: Meredith McCammond (please use form at Contact Us) or follow us on Twitter: @LITRGNews