I didn't receive any universal credit this month and can't pay my bills. Please help...
I didn't receive any universal credit this month and can't pay my bills. Please help...
Published on 8 August 2019
Universal credit (UC) is often a lifeline for those on a low income but sometimes payments can be reduced or stop unexpectedly, for example where two pay packets are received in one UC assessment period. When this happens, it can be more than an inconvenience, it can mean that people cannot pay for vital living costs. Here we provide some more information about emergency help that may be available.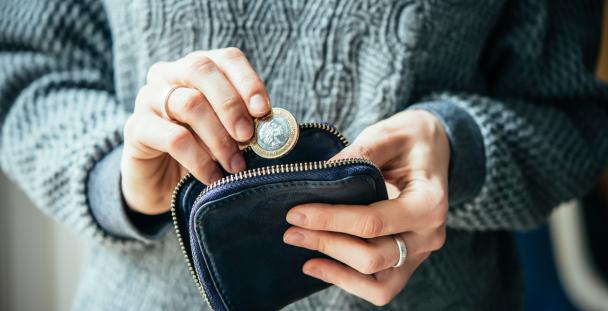 The 'two pay packets in one assessment period' issue can arise in UC when monthly wages are paid early due to the regular pay day being a non-banking day but also where normal pay frequencies clash with UC monthly assessment periods. For example, a regular 4-weekly pay cycle doesn't match the monthly UC cycle so some assessment periods will inevitably include 2 pay dates.
We tell you what to do about formally appealing the UC decision in such circumstances in our recent news piece.
However even if you appeal the UC decision, because your UC payment that month will be considerably reduced (or even stopped altogether), you may not be left with enough money to live on in the short term.
It is important to note the following points:
Where the 'double earnings' income figure used by DWP in an assessment period is high enough to take you off UC, this will end your UC claim and you will need to submit a new claim via your online UC account for any subsequent UC awards. However, you should not need to make a full new claim, instead you should be able to log in to your online account and confirm your details are correct to claim again automatically.
Where you re-claim this way (and there is less than six months between your last claim and your fresh claim), you will usually keep the same assessment period.
If you decide you need to take an advance payment as part of the reclaim process, this is not extra to your usual UC award and it will be paid back through a reduction in future UC payments.
Can't pay your rent?
Make sure you contact your council or landlord as soon as possible to explain the situation. You could ask them if they'll accept a late payment or whether they will let you pay them back over a few months under a payment plan.
If you're in rent arrears because of problems with your UC payments, you can contact a Shelter housing officer for advice, online, by phone or in person. (Note that this links to Shelter England, but there are similar facilities in Wales and Scotland and Northern Ireland.)
There is also some good information about rent arrears and UC on the Citizens Advice website.
Foodbanks
In recent years, many foodbanks have opened around the country. They are there to help people in an emergency and could be a practical alternative to taking out a hugely expensive payday loan for example, just to pay for some basic provisions.
The Trussell Trust is the largest network of foodbanks in the UK. Although they are a Christian organisation and the foodbanks will often be in churches, they welcome people of all faiths and backgrounds.
Most of their foodbanks provide three days' nutritionally balanced, non-perishable food and sometimes toiletries to people in crisis (the exact amount depends on whether you have a family to support). Many also offer additional services like debt/financial advice and breakfast clubs for children. If you live in a rural area and cannot afford to travel to collect your box, some food banks offer a free delivery service.
Usually you will need to be 'referred' to a foodbank by a professional such as a social worker, health visitor/GP or schools liaison officer. You can also be referred from your local children's centres, Citizens Advice and some charities and other community groups. There is no set criteria for who is eligible but you may be asked some questions about your circumstances or asked for some supporting evidence (e.g. bank statements), to establish that you have a genuine need for emergency food. If appropriate the referring body will give you a food voucher to take with you to the foodbank in order to get food.
If you cannot find a Trussell Trust foodbank near you, there may be other foodbanks in your area run by a local church or community centre. You may not always need food vouchers. An internet search should provide you with some options.
Other sources of help
You might be able to get some urgent financial assistance from your local authority (who should have a 'local welfare assistance scheme' to help people in times of exceptional need – call them and ask them for details), or via a hardship payment from the Jobcentre (if you are on other benefits and they have also stopped), or even a charitable grant (more on this below).
Shelter have an excellent article on where to get help if you are in a cash crisis.
The British Red cross in association with Turn 2 Us has a website on what financial assistance may be available to you from advances, loans, grants and other sources. It also has a search facility to find grants and funds you can apply to, depending on your individual situation.
Final thoughts
We appreciate that issues around payment of UC can be disruptive and feel very unfair. As such (and in addition to following the all other avenues discussed) you may wish to raise your case with your MP and/or contact a media outlet (such as a local or national newspaper, radio, etc.) to highlight the issue and share your experience.
If you choose to contact the media about your experience with UC, you should be aware that they may ask if you are prepared for your case to be made public.
(08-08-2019)
Contact: Jane Booth (please use form at Contact Us) or follow us on Twitter: @LITRGNews