Why completing a starter checklist CORRECTLY when starting a new job really does matter!
⚠️ This is a news story and may not be up to date. You can find the date it was published under the title. Our Tax Guides feature the latest up-to-date tax information and guidance.
Why completing a starter checklist CORRECTLY when starting a new job really does matter!
Published on 23 October 2019
One major cause of tax problems for those in employment, is the incorrect completion of the starter checklist – in particular picking the wrong employee statement (A, B or C). Here we explain what the different options mean and why it is so important to pick the one that matches your circumstances – if you want to avoid an unexpected and unwelcome tax bill at the end of the year, that is!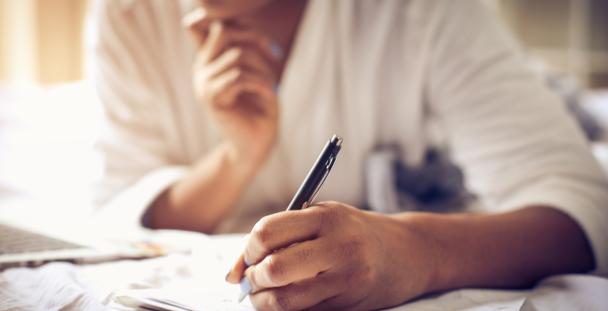 ©shutterstock/Mladen Zivkovic
We recommend that people read this article in conjunction with our website guidance on how PAYE codes work – as you will pick up background information to help you make sense of what follows, as well as to stand you in good stead to manage your tax affairs, now and in the future.
Starter checklist
If you don't have a P45 to give to a new employer, the new employer should ask you to complete a starter checklist. If they don't, print one off, complete it and give it to your new employer anyway. The phrase P46 is still sometimes used to refer to the starter checklist.
On a starter checklist, an employee is asked which statement applies to them:
A This is their first job since last 6 April and they have not been receiving taxable Jobseeker's Allowance, Employment and Support Allowance, taxable Incapacity Benefit, state pension or occupational pension.
B This is now their only job, but since last 6 April they have had another job, or have received taxable jobseeker's allowance, employment and support allowance or taxable incapacity benefit. They do not receive state or occupational pension.
C They have another job or receive a state or occupational pension
Depending on what statement you pick, your employer will allocate you a tax code and work out the tax due on your first payday.
There are three codes that may be allocated. In 2019/20 these are 1250L, 1250L M1/W1, and BR.
If you do not pick a statement or do not complete the starter checklist at all, then your employer will use a tax code 0T. For a basic rate taxpayer, this will produce the same result as a BR code (that is, a flat rate 20% deduction).
It is very important that you keep a copy of the starter checklist that you complete or at least make a note of the statement that you select and keep it somewhere safe, as you may need to refer to it if ever there is a problem.
The tax codes
Depending on the statement that you pick, your employer will use one of the following PAYE codes:
Category A = 1250L. This gives you the full benefit of your personal allowance since the beginning of the tax year, sometimes described as a cumulative tax code.
So, for example, if you have not worked since the beginning of the tax year and get a job on 1 September 2019, you will be allowed £6,252 of tax-free allowance (six months x £1,042 (1/12 x 12,500) = £6,252) to use against that month's wages (and to carry forward). By the 12th month of the tax year (March) you should have received 12/12th (i.e. all) of your tax-free allowances.
Category B = 1250 L M1/W1. This gives you a portion of your tax-free allowance for each pay period – but no more and no less. So, if you are paid monthly, you get 1/12th each month and if you are paid weekly, you get 1/52nd. This code may be referred to as a non-cumulative tax code.
Carrying on the example above, if you tick box B, you will be given £1,042 of tax-free pay to use against September's wages, £1,042 to use against October wages and so on – even if there are some unutilised tax-free allowances in the earlier part of the year. As your new employer does not have the details of your pay and tax from your previous employer, they are unable to calculate your tax 'cumulatively'. A non-cumulative code can often mean that you overpay tax.
Category C = code BR which means you pay tax at the basic rate, currently 20%, on all of your wages.
This code should give the correct result if you are a BR taxpayer and all of your personal allowance for the year is being fully used against earnings from your other employment.
What happens if I pick the wrong statement?
Problems usually arise when people pick box A, when actually they should pick boxes B or C. This is best illustrated by way of some examples.
Example 1 – Ann – Ticked box A when she should have ticked box B
Ann is unemployed. She is in receipt of Jobseeker's Allowance of £73.10 per week until October 2019 when she returns to work. Her new job pays her £2,000 a month. Ann does not have the P45U from the Jobcentre, so completes the starter checklist instead and certifies that this is her first job (in the 2019/20 tax year) but that she has not been receiving any of the state benefits listed on the starter checklist (she does not understand that the Jobseeker's Allowance she has received is taxable).
As a result of Ann ticking box A, Ann's new employer will operate the standard tax code (1250L – giving Ann the full personal allowance of £12,500) on a cumulative basis. This means that Ann will get the benefit of all the personal allowance from the first half of the tax year to set against her employment earnings. At the end of the year, Ann will have paid no tax on her employment earnings as in total, they are only £12,000 (6 months x £2,000) and she has been allowed £12,500 tax-free pay through the payroll.
However, her total taxable income in 2019/20 is actually £13,900.60 (that is £12,000 plus £1,900.60 Jobseeker's Allowance). At the end of the tax year, when HMRC come to do their annual reconciliation (called a P800), Ann will receive a tax bill for £280.12 (that is £13,900.60 less £12,500 x 20%).
If Ann had correctly ticked Box B, Ann's employer would have instead used the standard code operated on a W1/M1 basis, i.e. not cumulatively. Ann would not have been given the benefit of the personal allowance from the earlier part of the year and the underpayment situation would have been avoided (indeed, she would probably have found herself in a refund position).
There are a couple of things to note about this scenario:
Carer's Allowance is actually a taxable benefit – but it is not specifically mentioned alongside the other taxable benefits listed in the starter checklist. We have raised this with HMRC on numerous occasions.
Sometimes DWP will tell HMRC about any taxable benefits that an individual has had, but you should not rely on this happening and even if it does, it may be too late in the tax year for HMRC to change your tax code.
Example 2 – Zachery – Ticked box A when he should have ticked box C
Zachery is a nurse. He has been working in the NHS for some time and in 2019 decides to join the nurse 'bank' to pick up some extra hours. The nurse bank is a separate organisation within the NHS for payroll purposes to the part that pays him for his normal work. When he joins the 'bank' he is asked to complete a starter checklist.
Zachery thinks it is odd that he is asked to complete a starter checklist and just ticks box A – he considers his bank work an extension of his normal work and hasn't done any other type of work since 6 April.
Because of this, the bank payroll department use code 1250L against his bank earnings. Over the rest of the tax year, Zachery earns £8,000 as a bank nurse – none of which is taxed as it falls below the £12,500 tax-free amount that he has been allocated.
But Zachery has already used the tax-free amount against his normal earnings (£20,000) meaning his tax deductions are £1,500 (£20,000 less £12,500 x 20%). This means at the end of the year, Zachery will receive a bill for £1,600 (that is, £28,000 less £12,500 x 20% less the £1,500 he has already paid).
If Zachery had ticked box C instead of box A, tax at a flat rate of 20% would have been collected on his £8,000 bank nurse earnings (£1,600), which would have given the correct result.
There are a couple of things to note in this scenario:
I can't pay the tax bill, what should I do?
If you have a tax bill and it is because you incorrectly selected a starter statement, then there is not much you can do about it and you will have to agree with HMRC how you will pay it. It would be a different situation if, for example, you started a new job in 2019/20 and gave your new employer your starter checklist that indicated that code BR should be used (as it was a second job), however they did not use the code – they just put you on a standard 1250L code. This would be an 'employer error' and HMRC should chase them for the unpaid tax first. (Note, it is not an 'employer error' if you select the incorrect option on the starter checklist.)
If collection of the underpayment via your PAYE code or payment directly to HMRC will be difficult for you financially, contact HMRC as soon as possible to discuss. You may be able to arrange to have the tax coded over a longer period or to pay in instalments. There may well be an interest charge if you spread the payments.
I completed the starter checklist correctly, but I still have an underpayment!
Sometimes this can happen, for example, where you change jobs in the middle of a pay period. Consider Jacqui. She worked in HR until 19th July 2019 and was paid £1,500 per month (at the end of every calendar month). In July, she will only have been paid up until the 19th July (so, let's say £919.35) – but when calculating how much tax to deduct from that July salary she will be given the benefit of £1,042 tax free allowances, meaning that there is no tax deducted. Her total pay and taxes from this job at the point she leaves the HR job are therefore £5,419.35 and £274.80.
Jacqui started her new job on 22nd July 2019 – earning £1,750 a month. Even if she ticks box B on the starter checklist correctly, her new employer, will also give her £1,042 tax free allowances to use against her July earnings (let's say they are £564.51), meaning again, no tax is deducted.
At the end of the tax year, her 2019/20 tax calculation will show an £89.17 underpayment because in July she benefited from two sets of personal allowances:
| | |
| --- | --- |
| Job 1 earnings | £5,319.35 (£1,500 x 3 plus £919.35) |
| Job 2 earnings | £14,564.51 (£1,750 x 8 plus £564.51 |
| Total | £19,983.86 |
| (Less personal allowance) | (£12,500) |
| Tax due at 20% on balance of £7,483.86 | £1,496.77 |
| (Less tax deducted at source – Job 1) | (£274.80) |
| (Less tax deducted at source – Job 1) | (£1,132.80) |
| Underpayment | £89.17 |

In a situation like this, your employer has operated PAYE correctly and it is just one of those things. The main thing is be aware of the issue and budget for it.
Student loans
If you have got a student loan(s) to repay and you are employed, you normally repay the loan through your wages under PAYE. This normally happens automatically the April following your graduation, provided you have started working and are earning more than the repayment threshold(s).
HMRC provide your employer with the information they need to deduct the right amount from your wages. In order to calculate the correct repayment it is important that you note on the starter checklist what kind of loan you have (for example, a Plan 1 or Plan 2, or postgraduate loan). If you do not know what loan you have then contact the Student Loans Company.
More information?
You can see an example of how to complete a starter checklist in our useful tools pages.
We cover the starter checklist and student loans in more detail in our sister website, Tax Guide for Students.
There is more information on what to do if you cannot pay your tax in our employment section.
If you think employer error might apply to you, read our full guide on employer error.
(23-10-2019)
Contact: Meredith McCammond (please use form at Contact Us) or follow us on Twitter: @litrgnews