How to find your National Insurance Number (NINO)
⚠️ This is a news story and may not be up to date. You can find the date it was published under the title. Our Tax Guides feature the latest up-to-date tax information and guidance.
How to find your National Insurance Number (NINO)
Published on 5 November 2019
Starting a new job? Want to register to vote? You will need your National Insurance number. Here we tell you how to retrieve your National Insurance Number (NINO) from your Personal Tax Account (PTA) if you don't know it, without needing your NINO to get into the PTA in the first place!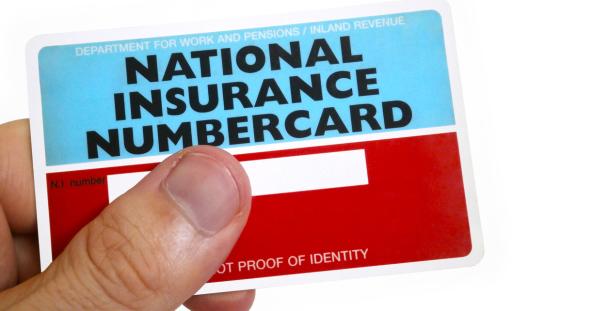 Your NINO acts as your reference for the tax system. You are sometimes also asked for your NINO to help prove your identity. For example, if you want to register to vote in the upcoming general election on 12 December 2019, you will need to provide your NINO.
Of course, if you had once known it, but have now lost or forgotten it, then you may be able to find your NINO on old official documents – for example, payslips from a job, your tax return, or a PAYE coding notice. Or you may have received a National Insurance numbercard (pictured above).
But what if you have never known it? Well, around your 16th birthday, a letter with your NINO should have arrived in the post. However, its significance may well have been missed. You could try digging this out, if you think it may have been kept or put somewhere safe.
Assuming you still can't find it, you can find a formal record of your NINO in your Personal Tax Account (PTA). If you do not already have one set up, you may be scared that you will end up stuck in a loop if you need your NINO to register for one? Don't be!
To set up a PTA with Government Gateway sign in credentials (which is probably an easier route that trying to set one up with GOV.UK Verify), yes, you are asked for an email address, a mobile phone number and some personal details, e.g. name, date of birth and NINO. But, when you get to the page that asks for your personal details, you should simply click on the link that says 'I do not know my National Instance number'. Instead, you will be asked for your postcode.
You will then move on to being asked some further questions to help HMRC identify you – you are given the option of answering questions on your payslips, your passport or your P60. If you select 'payslips' for example, you are asked 'How much National Insurance is shown in the 'Deductions' section on one of your recent payslips?'. You need to answer two such questions and, provided you answer them satisfactorily, you will proceed onto the home page of PTA.
From there you will see a section for National Insurance – select 'View your National Insurance letter' and you will see your NINO confirmed.
If all else fails, it is also possible to ask HMRC to confirm it by:
Whichever method you use, HMRC will write to you and confirm the NINO – usually within 15 working days. They will not provide the NINO over the telephone.
Important note: there are a number of businesses online who offer to help you find a lost NINO. However they will charge you a fee for something you can do yourself, for free!
(05-11-2019)
Contact: Meredith McCammond (please use form at Contact Us) or follow us on Twitter: @litrgnews