Have you just left work and need to claim universal credit?
⚠️ This is a news story and may not be up to date. You can find the date it was published under the title. Our Tax Guides feature the latest up-to-date tax information and guidance.
Have you just left work and need to claim universal credit?
Published on 20 November 2019
When you finish work, perhaps because your contract has come to an end or you have been made redundant or have even been sacked, it isn't unusual to need to claim financial support from the government. If you claim universal credit, you need to understand how any final pay from your old employer can impact on your claim. In the following article, we run through some of the main things to think about if you have just left work and need to claim benefits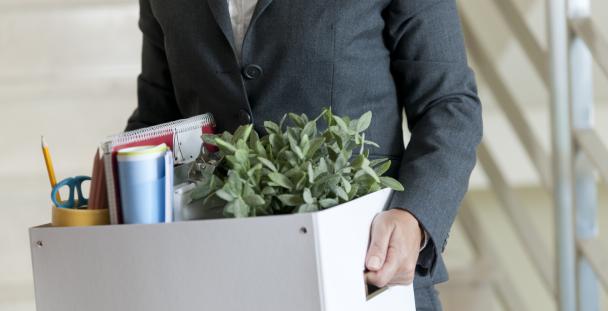 The benefits system is changing. What do I claim if I finish work?
What you can claim after finishing work depends on your National Insurance record. You may be able to claim contribution-based (or 'new-style') jobseeker's allowance if you have paid enough National Insurance contributions. However, if you haven't paid enough contributions or you need extra support in addition to contribution-based jobseeker's allowance then the main system of support for people making new claims is universal credit (UC). Universal credit is a means-tested benefit and is a non-contributory benefit – meaning it doesn't matter whether you have paid National Insurance contributions.
Universal credit is gradually replacing six other means-tested benefits and payments: working tax credit; child tax credit; income support; income-based jobseeker's allowance; income-related employment and support allowance; and housing benefit. We refer to these below as 'legacy benefits'.
For many people, a change of situation like losing a job can be the first time they have claimed universal credit but amidst the rush to sort things out, there are a few things to bear in mind (which we look at below).
If you are in any doubt about what you can claim, you should speak to a specialist welfare rights adviser who will be able to go through things with you carefully to help you identify your options. You should do this especially if you think you will need to claim universal credit to top-up contribution-based jobseeker's allowance.
Do I have to be out of work to claim universal credit?
No, you don't have to be out of work to claim universal credit. Many people claim universal credit while they are working and there is no upper limit to the number of hours you can work, although your earnings will usually reduce the amount of your award and sometimes they will reduce it to nil.
What happens to my other benefits when I claim universal credit?
When you claim universal credit, if you are also claiming any of the other benefits that universal credit is replacing, they will usually come to an end due to the universal credit claim. There are a few exceptions to this rule, but generally you cannot claim universal credit at the same time as one of the benefits it is replacing. For example, if you have been claiming working tax credit and child tax credit but your work ends, not only will your working tax credit end but once you claim universal credit, your child tax credit will also end.
Universal credit can be claimed whether or not you are working and it includes various elements that are related to things like housing, childcare, number of children and so on. However, it is not a like-for-like replacement benefit and if you have previously claimed any of the legacy benefits you are likely to notice some changes. Some people are better off claiming universal credit than the legacy benefits and others not, but if you need to make a new claim for support, you are likely to find that claiming universal credit is your only option.
How does universal credit work?
Universal credit is a monthly benefit, calculated and paid in arrears, which means that the amount you get is worked out on your circumstances and the income you have received in the previous month. The previous month is called the 'assessment period' and it runs for a calendar month from the date you make your claim (although there are some special rules if you make your claim at the end of a month – on the 29th, 30th or 31st). For example, if a claim for universal credit is made on 17 October, the assessment period will be 17 October to 16 November and your circumstances and income received during that period will be used to set your universal credit award for that month.
Does it matter when I claim after I finish work?
The date you make your claim is important – it sets the start of your entitlement to universal credit and it also sets the monthly assessment period.
The importance of exactly when to claim is likely to be different for different people. You may need to make your claim as soon as possible, to get things rolling and get access to financial support. But if you have just finished working and are waiting for your final wage payment, claiming straightaway might mean you receive no universal credit or a reduced amount of universal credit for your first assessment period, as explained below.
How does my final pay/wages affect my first universal credit award?
Your final payment from your employer might include other payments such as some accrued holiday pay or pay in lieu of notice. These amounts are also treated as earned income for universal credit, as well as your last wage/salary payment.
Redundancy pay is treated as capital for universal credit purposes so will only affect your award if such a payment takes your savings (capital) over £6,000.
If you think you will receive your last pay/wages after you have claimed universal credit and this therefore falls into your first universal credit assessment period, you need to remember that it could reduce your expected universal credit award substantially – even to nil.
Example
Sonia was on a fixed term contract of 6 months and her last date of employment is 25 October but she receives her final salary payment on 31 October. Her employer correctly reports the final salary payment to HMRC. If Sonia claims universal credit on 26 October, then her universal credit assessment period will run from 26 October to 25 November and the earnings she receives on 31 October will be used when working out her universal credit for that assessment period. As her earnings are quite high, Sonia receives no universal credit payment.
In most cases, DWP receive earnings data from HMRC which they use to calculate universal credit awards automatically. The majority of employers must send an electronic submission to HMRC 'on or before' the date they pay their employees. This submission includes a box showing the employee's payment date. There are some relaxations to this rule where usual paydays fall on non-banking days and for the Christmas period (see our article Universal credit payment problems – could HMRC hold the key?).
HMRC will usually send earnings data over to DWP based on the date the employer puts in the payment box – so in Sonia's case, her employer entered 31 October on their submission to HMRC and so DWP would receive the data the same day and use it in the assessment period of 26 October to 25 November. The only exceptions to this are where the employer sends a submission after 9pm (in which case the information goes to DWP the next day) or where the employer sends the submission late. Late submissions by employers can have a significant impact on a person's universal credit award.
Can I delay my claim?
Yes, if you are in a position similar to Sonia in the example, you may want to think about whether to hold off making your universal credit claim until after you have received that final payment (assuming that your former employer has not sent their submission late to HMRC).
If you have been paying taxes under the Pay As You Earn (PAYE) system and you stop work part way through the year, you might receive a refund of income tax at some point. You need to be aware that this too can be treated as earned income for your universal credit award in the assessment period that you get the refund – although DWP will not automatically be told about this refund, so you will need to tell them about it.
Example
Sonia decides to wait and claim universal credit on 2 November. Her assessment period will be 2 November to 1 December. As Sonia has no earnings in that period, (she received her last earnings 31 October and her employer reported this to HMRC correctly) she will receive the maximum amount of universal credit for her first period.
On the other hand, if Sonia's final salary payment isn't going to affect her universal credit award very much and she can't afford to delay her claim, she may prefer to go ahead and claim as soon as possible.
It can seem very complicated and if you are thinking of claiming universal credit we strongly recommend that you speak to a welfare rights adviser first. There has been an important court case which looked at issues around whether earnings can be allocated to a different period and, although DWP have not changed their approach, most welfare rights advisers are aware of the ruling. They will be able to go through your individual circumstances with you and help you work out your best options including whether to delay and for how long, to avoid your earnings reducing your award to nil.
How long does it take to get universal credit?
In theory, it should take approximately five weeks from the date you claim universal credit to your first payment – that is the assessment period of one month, and one week for processing. The latest information from DWP shows they pay in the region of over 80% of new claims on time.
It can take a little longer as you may need to attend an identity interview (many people don't manage to complete the identity check in the online claim process) and you will usually need to attend a universal credit interview with a DWP job coach to agree your claimant commitment and discuss any other aspects of your claim.
Is there any other help in the meantime?
The government have made a commitment that claimants can ask for – in fact should be offered – an advance of their first universal credit payment.
It is important here to remember that this is basically a loan and must be paid back. It will usually be collected by reducing your future universal credit payments. Also, the guidelines say that you may not be allowed an advance if you have any final earnings or redundancy payments you can be living on while waiting for your universal credit award.
If you are struggling with financial hardship or risk going into arrears with your rent, you should speak to your universal credit work coach or a welfare rights adviser.
Where can I find more information?
You can find more information about universal credit on our website for advisers, Revenuebenefits and on GOV.UK.
You can find information about what you can do if you are in short term financial difficulty in our news article I didn't receive any universal credit month and can't pay my bills. Please help…
You can use one of the online benefits calculators to get an idea about what you might be entitled to and how much you could get.
(20-11-2019)
Contact: Jane Booth (please use form at Contact Us) or follow us on Twitter: @litrgnews