Working through your own limited company? Are you ready for April 2020?
⚠️ This is a news story and may not be up to date. You can find the date it was published under the title. Our Tax Guides feature the latest up-to-date tax information and guidance.
Working through your own limited company? Are you ready for April 2020?
Published on 16 December 2019
New rules (known as 'off payroll working' rules) are due to be introduced in April 2020, which could significantly impact any tax savings that you, and other parties in your supply chain, may have received as a result of working through your own limited company. In view of this, over the next few months you may wish to, or be asked to, stop working through your own company and start working through an umbrella company. Here we explain the new rules and list 3 main things to think about if you find yourself in this situation.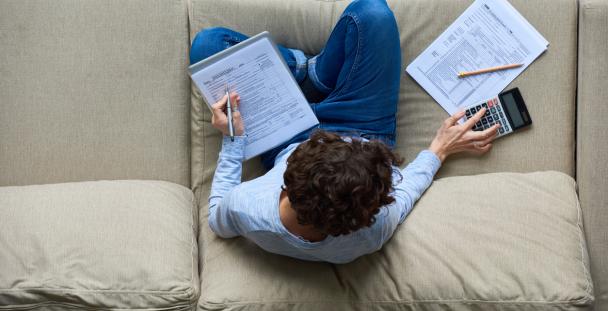 (Note, the Chancellor has committed to a review of the off payroll working rules – changes to them and/or the intended start date are not inconceivable, so you should bear this in mind when considering your options.)
If you supply your services via your own limited company, you may do this, or have been asked to do this (by an agency for example), for many different reasons. But one of the main ones is that it can result in significant tax and National Insurance savings, as compared to being taxed like an ordinary employee, for both you and others in the supply chain that you supply your services in.
The cost savings arise for you because basically, you can receive income from the company as dividends, which are taxed more beneficially then salary. Cost savings arise for others in the supply chain, mainly because there is no Employers National Insurance when paying a company. You may also pay an ongoing fee for 'accountancy' services to help you run the limited company, to an entity in the supply chain, which is an additional revenue stream for them.
You can learn more about working through a limited company on our website.
Many people consider it unfair that an individual, essentially doing the same job as an employee, can pay a lower amount of tax by working through a limited company; and the government have recently introduced some new rules to tackle this.
What are the new rules?
Basically, the new rules say that if you look like an employee for the end client that you work for (the term end client is used to refer to the entity for whom you actually do the work), then you should pay tax like an employee. However, because it is only a 'deemed' employment relationship, you won't get any of the employment rights that usually go along with being an employee.
This means that PAYE tax and National Insurance will have to be operated on the amount paid to the company for your services, by whichever entity is responsible for paying your limited company. You should then be able to draw out the money from the company as either a salary or dividends without further deductions. You can read more about the requirements on GOV.UK.
The end client that you work for is responsible for deciding whether you look like an employee (as opposed to a genuinely self-employed person), by applying the general 'status' tests. If you are a lower-paid worker, you are not likely to have much autonomy over the work that you do for them, so you will probably be determined to look like an employee.
This is really the key difference between the new rules and the old rules. Under the old rules (known as the 'IR35' rules), the decision as to whether you look like an employee or not rests with your own limited company, whereas under the new rules, the end client makes the decision instead (with ramifications if they get things wrong). This makes it much more likely that the rules will be applied properly and that everyone will then pay the correct amount of tax and National Insurance in accordance with the law.
The 'new' rules have actually applied to those providing their services to organisations in the public sector since 2017. From 6 April 2020, the rules are due to be rolled out to those providing their services to medium and large clients in the private sector (that is, those that meet 2 or more of the following conditions: annual turnover of more than £10.2 million, a balance sheet total of more than £5.1 million, more than 50 employees).
Those providing their services to 'small' clients in the private sector (as well as individuals, for example, homeowners needing an electrician or gardener) will still need to consider whether the old IR35 rules apply to them – these don't just fall away altogether post April 2020. In fact it is foreseeable that the old rules may start being better enforced after April 2020 – so you need to make sure you are clear on whether your client is 'small' and if so, what the IR35 rules mean for you!
What are the alternatives to a limited company once the new rules come in?
If you fall under the new rules, post April 2020 the cost savings you may have received until now will disappear, so working through a limited company therefore becomes much less attractive, especially when you consider all the admin and hassle that usually goes with running a limited company. (Indeed, there will be so much potential cost and complexity in supply chains involving limited companies, that if you are a lower paid worker being asked to work through one post April 2020 – you probably need to ask yourself why....)
Therefore, you may wish to, or be asked to, stop working through your own company. Your options are then to try and get taken on directly by the end client as an employee, or carry on working 'flexibly', via agencies for example, but under PAYE. This will usually mean that you will need to work through an umbrella company, as agencies don't usually operate PAYE on workers' wages themselves.
Here are three important things to think about if you are asked to work through an umbrella company:
1. Umbrella companies vary enormously…
We outline how a compliant umbrella company should work in our factsheet.
But there are a huge number of umbrella companies out there and so the marketplace is very competitive. This can lead to their margins (or fee for their services) becoming quite small, and so some of them can act unscrupulously in their quest to generate more money for themselves. Not all umbrella companies act this way, but you should ensure you check any arrangements carefully.
In particular, at the moment, we understand that you should be on the lookout for three main models, where, on the face of it, all appears to be well (as you will be having PAYE operated) but where there are serious underlying breaches of the law.
You should:
Watch out for multiple PAYE references being used on payslips – this could suggest you are in a 'mini umbrella' (this model sees workers being put into lots of mini companies, where things like the Employment Allowance are then incorrectly claimed – despite a clear HMRC warning that this is illegal).
Check your Personal Tax Account to make sure that the pay and tax details being submitted to HMRC by the umbrella company match your payslips. We have heard of situations where some umbrella companies are understating people's pay figures in their submissions to HMRC (thereby reducing the tax/National Insurance amounts that are calculated and that they pay over) – this is payroll fraud.
Make sure you are receiving the employment rights that you are due to receive as an employee of the umbrella company. If you are not, you could be in something like the 'elective deductions model' whereby you are classed as self-employed but 'elect' to have PAYE operated on your income, meaning employment rights like holiday pay and auto-enrolment are bypassed.
In terms of issues around 'travel and subsistence', most lower-paid workers will be under 'supervision, direction or control', so should not receive tax relief on home to work expenses.
You should note that even where travel and subsistence expenses could still be allowed for tax purposes, for example because of multi-site visits, a different rule means that an umbrella company should probably not be reimbursing your expenses (apart from mileage expenses) on a tax and National Insurance free basis as part of your normal pay.
2. You need to be especially wary of umbrella companies offering to pay you in loans…
This is such a vital point, we put it on its own, rather than trying to cover it in point 1 above!
One of the outcomes of the public sector changes in 2017, was a mass shift of people out of limited companies into highly aggressive umbrella company models – including ones based on artificial 'loan' arrangements (where instead of receiving normal taxable pay workers receive a tax-free 'loan' instead).
This was sometimes the choice of the worker, in an attempt to try and reduce their tax bill. But it was sometimes foisted upon workers by umbrella companies as loan arrangements also reduce their employer costs and obligations.
HMRC consider loan arrangements tax avoidance, and many of those same individuals are now having to deal with the 'life-changing' loan charge. But despite the loan charge, loan arrangements have not gone away.
You therefore need to be extra vigilant about being offered payment in the form of loans, grants, advances etc. (even if it has a 'QC's opinion' or appears to have been 'approved' by HMRC – which really means very little in this context). Remember – HMRC probably won't go after the umbrella company for unpaid tax (they won't be able to as the umbrella company will simply fold), they will go after you.
If you have concerns about a certain umbrella company, you should ask if you could use a different one. You should be aware that some agencies are incentivised by a commission into encouraging you to join up to certain umbrella companies, so they may push back. If this happens, you need to think very carefully about how to proceed.
3. You need to ensure that your limited company is closed down properly if you will have no use for it, post April 2020
If you are switched out of a limited company, into an umbrella company, then you need to take steps to ensure that the limited company will be closed down properly.
If you are paying an entity in the supply chain for accountancy services, you should be aware that they may not be prepared to deal with the winding up of the limited company as part of their normal fee. You should also consider whether there will be costs involved in terminating the accountancy services (particularly if they have signed up to pay for a 'package' of services on an ongoing basis).
These 'extra' costs may be unwelcome but the bottom line is that if you do not make sure that the limited company is closed down properly, you could be left with messy limited company and corporation tax compliance issues that could follow you around for many years.
(16-12-2019)
Contact: Meredith McCammond (please use form at Contact Us) or follow us on Twitter: @litrgnews