Press release: Tax credits – claimants reminded to renew by 31 July
⚠️ This is a news story and may not be up to date. You can find the date it was published under the title. Our Tax Guides feature the latest up-to-date tax information and guidance.
Press release: Tax credits – claimants reminded to renew by 31 July
Published on 28 July 2021
The Low Incomes Tax Reform Group (LITRG) is reminding people who claimed tax credits during 2020/21 and who have received renewal forms from HMRC, to act by 31 July so that their payments do not stop.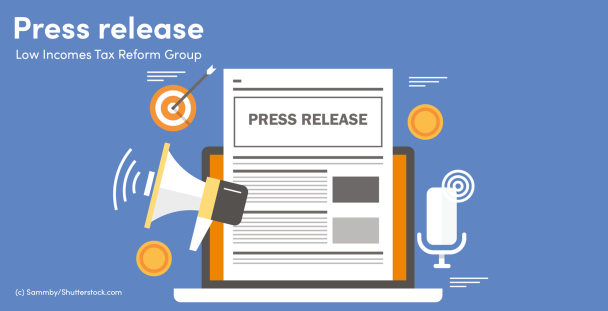 The tax credits renewals process finalises tax credit awards for the tax year that has just ended (2020/21) and it acts as a claim for the current tax year (2021/22).1

Claimants who do not yet know their actual income for 2020/21 must still submit an estimate of their income by 31 July – and they need to contact HMRC again by 31 January 2022 to either confirm the estimate is correct or replace it with the actual figures.
Even if someone did not receive any payments during 2020/21, or they have since stopped their claim, if they claimed tax credits at all during the 2020/21 tax year, they will receive papers from HMRC. They must follow HMRC's instructions to finalise their claim for 2020/21 and, if necessary, make a claim for the current tax year.
For people who had their tax credits claim stopped and who went on to claim universal credit during 2020/21, HMRC should have already finalised the 2020/21 claim and so no renewal pack should be issued. People who claim universal credit2 during this renewals period may find they have two packs to complete: one to finalise the claim for 2020/21 and the other to finalise the claim for the current year 2021/22.
Victoria Todd, Head of LITRG, said:
"Anyone who has not received their tax credits renewal pack by now should contact HMRC to chase it up.
"Missing the deadline means you could find yourself having to repay to HMRC all of the tax credits you have received since the start of this tax year in April."3
Some claimants will receive two forms (one with a red line across it) with accompanying guidance notes. These are known as 'reply-required' renewals and the claimant must respond to HMRC by 31 July.
Other claimants will receive just one form (with a black line across it) and these people (known as 'auto-renewals') will have their claim for 2020/21 finalised and renewed automatically for 2021/22 using the details HMRC already hold. These claimants need only contact HMRC by the 31 July deadline if something on the form is wrong or they have had a change of circumstances.
Victoria Todd said:
"It is important to read the guidance notes carefully, particularly the parts that explain what counts as income for tax credits. For example, some coronavirus support payments need to be included as income for tax credit purposes, others do not.4
"Furthermore, some of the renewal documents will show income figures that HMRC have obtained from employers through the tax system but these may not include the deductions that are allowable for tax credit purposes. For example, during 2020/21, many more people were working from home and able to take advantage of tax relief for home working expenses. This expense is deductible from employment income for tax credit purposes but it will not usually show in the figures HMRC replay in the renewal paperwork.
"People should read the notes carefully to see if any of these deductions apply to them. If using the online system to renew, claimants should ensure they enter their income figure after any allowable deductions and follow carefully the notes that come with the paper pack.5 Claimants who have already renewed have until 31 July to give HMRC an updated income figure for 2020/21 if they have missed off any deductions or have made any mistake, such as forgetting to include certain coronavirus support payments."
People can renew tax credits online, via the HMRC App, by telephone or through the post. HMRC's on-line service is found on the official Gov.UK website, either via their personal account (if they have set one up) or by going directly to the 'Manage your tax credits' service.6
Victoria Todd added:
"Unfortunately, this time of the year sometimes sees an increase in fraudulent activity which often targets the most vulnerable taxpayers. Claimants should remember that tax credits can only be renewed using the official HMRC phone number, Gov.UK website, the HMRC app or by post to HMRC.''
---
Notes for editors
1. https://www.gov.uk/government/news/one-week-left-to-renew-for-300000-tax-credits-customers
2. When a tax credit award ends and universal credit is claimed in the same tax year, HMRC use a different process to finalise the tax credit claim. This process is called in-year finalisation and means that HMRC finalise the tax credit claim for the current year soon after it has ended rather waiting until after the following April. Where someone claims universal credit during the renewals period, they are likely to receive more than one pack and so they need to check the details of each pack carefully paying particular attention to which year HMRC are requesting income information about. Calculating income under the in-year finalisation process is done differently, in some cases, compared to the current process so claimants should read the guidance notes that come with each form carefully.
3. Once the 31 July deadline passes, if a claimant has not renewed their claim, HMRC will stop making payments and issue a Statement of Account. If the claimant contacts HMRC within 30 days of the date on the Statement of Account, the renewal claim can be reinstated from 6 April 2021. If they do not, then all payments made from 6 April will have to be paid back to HMRC and the claimant will need to make a fresh claim for tax credits – not a renewal claim – that can generally only be backdated up to one month. As universal credit is gradually replacing tax credits and other legacy benefits, HMRC state that most people can no longer make a fresh claim for tax credits, with only one exception for frontier workers. If the claimant can show HMRC they have good cause for missing the July 31 deadline and the 30 days grace period but replies by 31 January 2022, then they may be able to have their tax credit claim renewed and reinstated from 6 April.
4. https://www.litrg.org.uk/latest-news/news/210614-press-release-concern-potential-confusion-claimants-renewing-tax-credits-claims
5. Employers and pension providers send data about earnings and pensions to HMRC for income tax and national insurance purposes throughout the year via the Real Time Information (RTI) system. HMRC sometimes use this data in the tax credit renewals process. For those who receive auto-renewals, this data will be used to finalise the 2020/21 claim and renew the claim for 2021/22 unless the claimant tells HMRC that the figures are incorrect or that they have deductions to be made from those figures. For reply-required renewals, the data will be shown on the form as a guideline, but claimants should still check the figures carefully and, if they are incorrect or the claimant is entitled to make deductions from them, substitute the correct 2020/21 information on the declaration form. See: https://www.gov.uk/government/publications/tax-credits-renewal-pack-notes
6. Further information on renewing tax credits (including the requirements for doing so) can be found on GOV.UK. HMRC can be contacted either using the official HMRC online service via the GOV.UK website, or the official phone number – 0345 300 3900, or the HMRC App. The HMRC App is free and can be downloaded from the App Store or Google Play store. More information on the renewals process generally can be found on the LITRG website.
7. Low Incomes Tax Reform Group
The LITRG is an initiative of the Chartered Institute of Taxation (CIOT) to give a voice to the unrepresented. Since 1998 LITRG has been working to improve the policy and processes of the tax, tax credits and associated welfare systems for the benefit of those on low incomes.
The CIOT is the leading professional body in the United Kingdom concerned solely with taxation. The CIOT is an educational charity, promoting education and study of the administration and practice of taxation. One of our key aims is to work for a better, more efficient, tax system for all affected by it – taxpayers, their advisers and the authorities. The CIOT's work covers all aspects of taxation, including direct and indirect taxes and duties. The CIOT's 19,000 members have the practising title of 'Chartered Tax Adviser' and the designatory letters 'CTA', to represent the leading tax qualification.
Contact Hamant Verma, External Relations Officer, 0207 340 2702 HVerma@ciot.org.uk