Scotland's public finances in 2022-23 and the impact of COVID-19: Finance and Public Administration Committee call for views
Scotland's public finances in 2022-23 and the impact of COVID-19: Finance and Public Administration Committee call for views
Published on 16 August 2021
LITRG welcomes the opportunity to respond to the call for views published by the Finance and Public Administration Committee of the Scottish Parliament. LITRG submitted its comments as part of the response made by the Chartered Institute of Taxation (CIOT).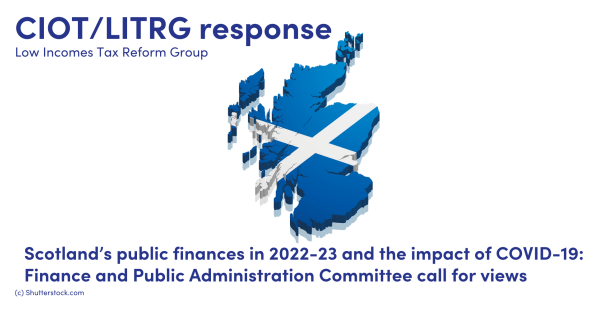 The Committee was interested to hear about how the Scottish Government should use its next budget to ensure a fair and equal recovery, as well as how it could address the effect of the coronavirus pandemic on different social groups.
We used the joint response to stress the importance of giving detailed consideration to interactions between Scottish devolved tax policy decisions and reserved taxes, as well as interactions with social security policies, both devolved and reserved.
We also noted that it might be helpful if a detailed analysis of impacts were published when tax policy was being developed and consulted on – this could help to improve consideration of fairness and equality issues earlier in the process of developing tax policy. There should also be a programme to review whether assumptions made in evaluating impacts prove to be correct and whether a measure has resulted in unintended consequences.
The response can be found here.
Contact: Joanne Walker (click here to Contact Us)
(17/08/21)