All Party Parliamentary Group for Entrepreneurship – Call for Evidence on the Sharing Economy
All Party Parliamentary Group for Entrepreneurship – Call for Evidence on the Sharing Economy
Published on 29 November 2021
The All Party Parliamentary Group (APPG) for Entrepreneurship recently held a call for evidence on the sharing economy. As many low-income workers make at least part of their living from the sharing or gig economy, LITRG made a submission to the call for evidence to highlight issues that we think need to be considered in connection with the taxation of the income.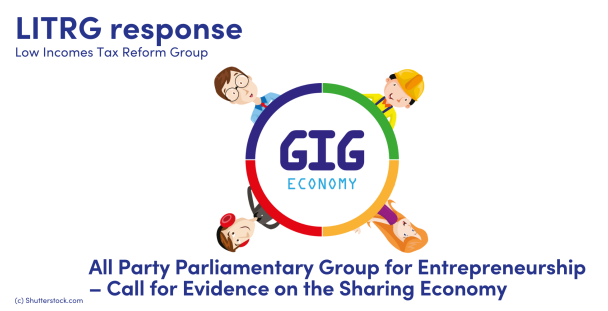 Among other things, we called for
Consideration to be given to finding ways to tax those who work through platforms other than via the Self Assessment system
The employment status of gig workers to be clarified as soon as possible
HMRC to better advise and educate those who use online platforms as a source of work or to otherwise generate income about their tax obligations
Trading and property allowances to be better publicised
The APPG has not yet published a report of the findings of its inquiry into the sharing economy as a result of the call for evidence, however LITRG's submission can be found here.
The call for evidence can be found on the APPG For Entrepreneurship website.
Contact: Sharron West (click here to Contact Us)
First published: 29/11/21