Scottish Carer's Assistance – Scottish Government consultation
Scottish Carer's Assistance – Scottish Government consultation
LITRG responded to the Scottish Government's consultation on Scottish Carer's Assistance, which will replace Carer's Allowance in Scotland.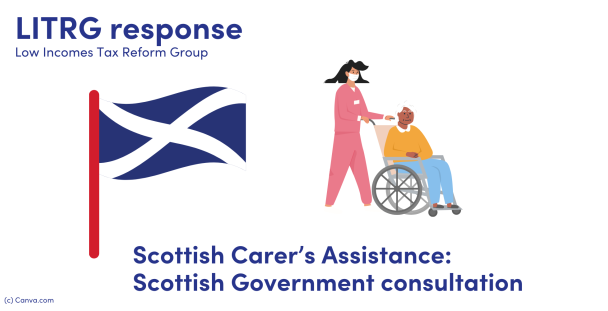 The consultation sought views on proposals for how Scottish Carer's Assistance could differ from Carer's Allowance. It was divided into three sections covering what the benefit will work when it first launches, how extra support should be paid to carers (currently carers in Scotland receive Carer's Allowance Supplement on top of Carer's Allowance), and future changes to Carer's Assistance.
The proposal in the consultation document is that Scottish Carer's Assistance will be taxable and that it will be counted as income for the purposes of entitlement to tax credits and means-tested benefits.
We stressed the importance of raising awareness of the status of the benefit for tax and benefits purposes. We also recommended the provision of clear information to claimants on the taxable amounts of Scottish Carer's Assistance they receive and the amounts they need to declare for the purposes of tax credits and means-tested benefits.
Our response also picked out some other areas that would benefit from better guidance than is currently available in respect of Carer's Allowance – for example, guidance on the eligibility of unpaid carers for council tax discounts and guidance on the deductions that carers can make from their earnings when calculating their earnings for the purposes of the earnings limit.
Contact: Joanne Walker (click here to Contact Us)
First published: 25/05/22