Past chairman of LITRG honoured by tax professional institute
Past chairman of LITRG honoured by tax professional institute
Published on 11 January 2018
Anthony Thomas was awarded the Council Award by the CIOT President, John Preston, for his outstanding contribution to the field of taxation. The Council Award is the highest ranking award that the Institute can give.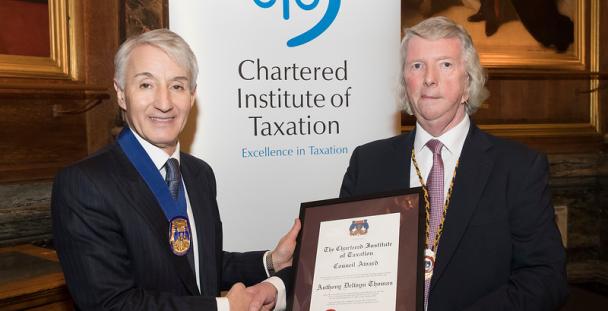 ©Phil McCarthy Photography
Anthony is just the fifth recipient of the Council Award to date.
CIOT President John Preston presented the award at the annual CIOT President's Luncheon in London, stating that it was a privilege to recognise Anthony for his exceptional contribution to the world of taxation over many years.
He went to say: "The Council Award given to Anthony Thomas recognises his outstanding contribution to the life of the Institute and the wider tax profession. A Council member for 15 years he has shown extraordinary dedication to CIOT and ATT, including terms as president of each. More recently he has been a champion for those on low incomes, fighting to make the tax and benefits systems work better for them, and to raise funds for the work of the tax charities."
In addition, the President awarded Honorary Fellowships to Paul Johnson, Director of the Institute for Fiscal Studies (IFS), and Professor Michael Devereux, Director of the Oxford University Centre for Business Taxation.
(11-01-2018)
Contact: Robin Williamson (please use form at Contact Us) or follow us on Twitter: @LITRGNews