Carer's allowance: can you claim?
⚠️ We are working hard to ensure this guidance is up to date. However, you should bear in mind that things may change as the government respond to the ongoing situation.
Carer's allowance: can you claim?
Updated on 7 October 2020
If you have taken on a new or increased unpaid caring role as a result of the coronavirus (Covid-19), have you thought about claiming carer's allowance? If you were already an unpaid carer, might you have become entitled to claim carer's allowance due to a reduction in your income? Read on to see if you should claim.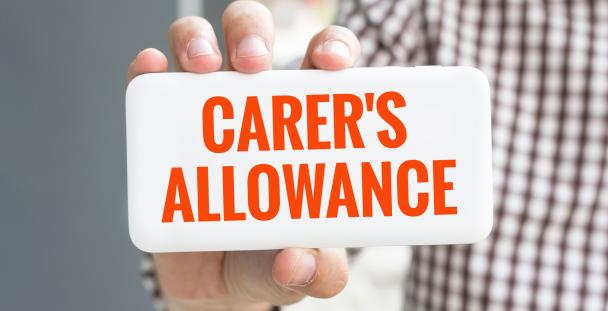 (c) Shutterstock / KongNoi
What is carer's allowance?
Carer's allowance is a taxable benefit of £67.25 a week. We explain about it in detail in our disabled people and carers guidance.
We suggest you read that full guidance if you are thinking about making a claim. However, some key points for this article are:
You might be able to get carer's allowance if you care for a disabled person for 35 hours or more each week. You do not have to be related to, or live with, the person you look after.
You are not doing work for which you earn more than £128 a week (from April 2020) after certain expenses have been deducted.
Has the allowance changed due to the coronavirus?
For those who were already claiming carer's allowance when the coronavirus outbreak began and whose ability to provide care changed as a result, we explain some of the helpful changes made to the rules on our coronavirus page: Support for carers.
There has also been a relaxation in that certain types of non face to face care count towards the 35 hours of care needed to qualify for carer's allowance.
Why might I have become eligible to claim carer's allowance due to the coronavirus?
Taking on a new caring role, or additional responsibilities
You might have taken on a caring role. For example, the coronavirus pandemic has meant that some people with existing health conditions have been 'shielded' and had to stay in isolation for many weeks to minimise their exposure to the disease.
This could have meant they needed assistance from family or friends that they might not otherwise have needed. Some might have taken the view that it was better to provide care within the family rather than having paid carers coming in and out of the home, for instance.
Others have taken the difficult decision to take family members out of residential care for the duration of the pandemic and to instead care for them at home, due to visiting restrictions meaning they might not otherwise see loved ones for months on end.
Similarly, you might previously have provided a certain number of hours a week of care for someone but have increased them recently. If you are providing at least 35 hours a week of care as a result, this could mean you have become eligible.
Your earned income has gone down due to the coronavirus – for example, if you are furloughed from your job
Ordinarily, you might meet the other eligibility criteria for carer's allowance but not be able to claim it because you earn more than £128 a week. As explained in our detailed guidance, your weekly earnings figure is calculated after deducting National Insurance contributions, income tax and half of any pension contributions you make, plus certain other expenses.
The coronavirus has meant that some people have lost their jobs altogether – in which case, if you meet the other criteria for carer's allowance, you will now be able to claim (unless you get another job earning over the threshold).
Also, some people have been 'furloughed' from their job under the coronavirus job retention scheme, and are being paid less than they normally would. Furlough pay is taken into account for the earnings calculation, but if the amount means you are now getting less than the £128 a week threshold, you can claim carer's allowance (provided you meet the other eligibility criteria).
When should I claim carer's allowance?
We explain this in more detail in our main guidance, but essentially, you should claim as soon as you know you are eligible, though claims can be backdated (usually by up to three months).
⚠️ Warning: If the person being cared for receives a severe disability premium or addition as part of certain benefits, you must check with them before claiming carer's allowance. This is because the person you're caring for can't get the premium or addition while you are getting carer's allowance. This can be worth more than the carer's allowance. Check this before claiming carer's allowance and seek advice before claiming if you are unsure.
What tax do I pay on carer's allowance and how do I pay it?
Carer's allowance is a taxable benefit, but no tax is taken off at the point you receive it. On its own, it is below the threshold for paying tax (£12,500 for most people in 2020/21, which works out at about £240 per week or £1,041 per month).
However, if you have other taxable income, you basically have to add it together with your carer's allowance to see if you need to pay tax overall.
If you have other income which is taxed under the PAYE system, HMRC should include carer's allowance in your PAYE code, with the aim of trying to collect tax on both lots of income together. This system does not always work perfectly so you may end up over or underpaying tax at the end of the year.
We explain the tax position further in our main guidance.
What happens if I stop being eligible for carer's allowance when the coronavirus situation eases?
You must report changes in circumstances to the Department for Work and Pensions Carer's Allowance Unit.
For tax purposes, if you have had carer's allowance included in your PAYE code for the current tax year, you will need to contact HMRC to let them know what has happened as the amount of allowance included in your code might need to be adjusted.
Where can I find more information or get help?
Our main guidance on carer's allowance directs you to sources of more information and support.
The benefits system can be complicated, so you might want to seek further advice from a specialist organisation – see our Getting help page.
There is guidance for unpaid carers on GOV.UK and Carers UK.