Coronavirus: Employees: illness or self-isolation
⚠️ We are working hard to ensure this guidance is up to date. However, you should bear in mind that things may change as the government respond to the ongoing situation.
Coronavirus: Employees: illness or self-isolation
Updated on 13 November 2020
The coronavirus (COVID-19) outbreak is having far-reaching financial impacts on individuals and businesses across the UK, and indeed across the world.
If you are an employee and are ill or self-isolating, this page explains what you may be able to claim. If you find your work has changed, for example your hours have been reduced or you have been laid-off or made redundant, see our work changes guidance. There is also some useful information on the ACAS website.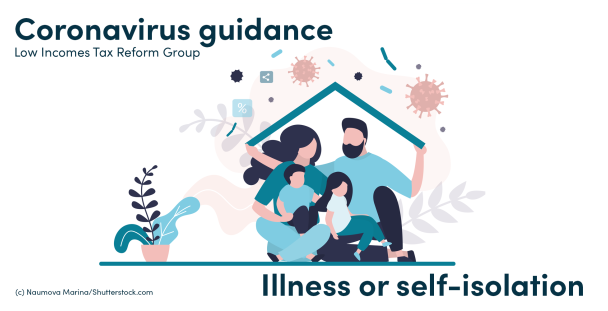 Can I get Statutory Sick Pay (SSP)?
Statutory Sick Pay is to be paid to those eligible (from the first day of sickness absence rather than the fourth day) who are ill from COVID-19 or have to self-isolate in line with official guidance. Self-isolation is a specific term and is not to be confused with social distancing. There is guidance on social distancing for everyone on GOV.UK.
You may also be able to get it in other circumstances, as set out below, for example, if you are shielding.
Some more points of clarification about SSP eligibility:
SSP (currently £95.85 from 6 April 2020) is available for people who are an 'employed earner' (basically those who are working for an employer who has a liability to pay National Insurance for them), who earn an average of at least £120 per week (from 6 April 2020) and who have done some work under their contract (even if this is just a few hours' worth). This means that if you are in a new job – you may qualify for SSP even if you have not been paid yet.
SSP is available to casual, zero-hour contract and agency workers (although the period which you may get SSP might be different). There is some information about SSP and different types of employment on the GOV.UK website.
The earnings taken into account are broadly the average weekly earnings for the prior eight weeks. If you have more than one job, you cannot combine earnings from them to meet this threshold (unless those jobs are with the same employer). On the other hand, if you have two or more jobs and earn at least £120 in both – you can get SSP from both employers.
Where you have not yet been in the employment for 8 weeks, SSP is worked out by reference to the amount of pay you are due to be paid under your employment contract.
Part-time workers who earn at least £120 per week, qualify for SSP at the normal full weekly rate – they do not receive a pro rata amount. So, someone who is self-isolating for two weeks and who normally works five days a week should get £191.70 in total. Someone who is self-isolating for two weeks and who normally works three days a week should also get £191.70 in total.
People who earn less than £120 per week or who are self-employed (including those treated as self-employed for tax purposes by their engager) are not entitled to SSP – see below for help you might get instead. It is important to understand that SSP is not a 'worker' employment law right but rather one that is tied to whether secondary Class 1 National Insurance is payable.
Employees should ask their employers for SSP if they think they are entitled to it (agency workers should ask their agency, unless they work through an umbrella company, in which case they should ask their umbrella company). You should be able to get a 'sick note', if you need one, from an NHS online facility. But please remember that for the first seven days off work, employees can self-certify, so you do not need any evidence for your employer.
If you think that SSP is due but your employers have refused to pay SSP, contact the HMRC statutory payment dispute team on 03000 560 630.
See our news article on SSP and the Test and Trace system for more detail about SSP, including how long you can get it for, how it interacts with other payments, such as those made under the Job Retention Scheme, and links to further information.
In Wales, additional funding allows employers to pay eligible workers at full pay if they cannot work due to COVID-19.
I am shielding. Can I get SSP?
From 16 April 2020, if you are clinically extremely vulnerable, live in certain areas and have a current shielding notification letter, you may be able to get SSP. This will include people who cannot work from home in England from 5 November to 2 December, although note, that SSP is intended as a safety net, for example, in cases where workers are not furloughed under the Job Retention Scheme and cannot work from home.
Under the Job Retention Scheme Extension from 1 November, it is possible to now be furloughed, even if you have not been previously eligible under the original Job Retention Scheme.
I have been contacted by Test and Trace. Can I get SSP?
Under the Test and Trace system that launched on 28 May, a person who has been notified that they have had contact with a person with coronavirus is to self-isolate either for 14 days or until a specified date. The rules relating to Statutory Sick Pay (SSP) have been amended to include employees who are self-isolating in these circumstances.
We explain more about this in our news article: I have been contacted by Test and Trace: am I eligible for SSP?
There is a new legal duty in England to self-isolate in place from 28 September 2020 if you test positive for coronavirus or are contacted by NHS Test and Trace, with fines for breaches. You can read more about it on GOV.UK.
In response to concerns that people were struggling to self-isolate due to financial constraints, a £500 lump sum support payment will be made available for people on low incomes who cannot work from home and have lost income as a result of self-isolating.
The scheme will apply to people notified to self-isolate on or after 28 September, not before that date.
The devolved administrations are implementing their own schemes.
You can read more about the £500 test and trace support payment on our dedicated page.
I am going to have an operation and been told I have to self-isolate for 14 days prior to the surgery, can I get SSP?
From 26 August, the SSP rules allow people to get SSP (provided they meet the general qualifying rules for SSP), where they have had a letter (called a 'pre-surgery notification') notifying them that they must self-isolate for 14 days prior to the surgery or procedure and they are complying with the instruction to self-isolate.
I have to quarantine after being abroad, can I get SSP?
Currently, those who are required to quarantine (self-isolate) for 14 days after arriving in the UK from abroad are not entitled to SSP.
You can read more about this and some of the potential options for support in our news article: Quarantined upon your return to the UK?.
What happens to my tax credits if I claim SSP?
Claimants are treated as in qualifying remunerative work during certain periods of sick leave if they are in receipt of:
statutory sick pay
short term lower rate incapacity benefit
income support on the grounds of incapacity for work
employment and support allowance
national insurance credits on the grounds of incapacity or limited capability for work
The last three bullet points are time limited to 28 weeks.
You should also be aware that if you do claim SSP (or new-style ESA: see below), it will count as income for tax credit purposes. There is no requirement to report changes to income to HMRC when they happen, but if you do not then you may be overpaid if your income increases or you may miss out on additional credits if your income falls.
What if I can't get SSP?
If you aren't entitled to SSP and your employer or the business you work does not have any other arrangements in place, you may need to access financial support through the benefits system – in particular, 'new style' Employment and Support Allowance (the new name for contributory ESA) and/or universal credit (UC). In a small number of cases – broadly where you get or were entitled to the severe disability premium in certain benefits - you may still be able to claim income-related employment and support allowance (as well as other benefits UC is replacing) instead of UC.
Which you claim depends on whether you have paid enough NIC to claim new-style ESA (more on this below). Even if you have, you may want to claim UC in addition to topping up your income.
UC is gradually replacing six other benefits: working tax credit, child tax credit, housing benefit, income support, income-related employment and support allowance and income-based jobseeker's allowance. The majority of people can no longer make claims to these other benefits, although there are some limited exceptions. Instead, if you need financial support you will probably need to claim UC.
You should also be aware of the following:
If you or your partner get or have recently received a severe disability premium in certain benefits or are classed as a 'frontier worker' you may be able to make a claim for one of the benefits that UC is replacing. See our page Who can claim tax credits? in the main part of our website. This is complex and you should seek advice BEFORE making any UC claim if you think this might apply to you.
If you are currently receiving any of the benefits UC is replacing, they will end when you make a UC claim.
UC takes savings over a certain level into account and your partner's circumstances and income. If their income is too high, you may not qualify for any help.
The benefits system is complicated. If any of the points above apply or you are unsure, you should seek specialist welfare rights advice before making any UC claim.
If you are making a new claim to UC, this might mean you are eligible to open a Help-to-save account, which pays a tax-free government bonus of up to 50% of the amount saved. While saving is unlikely to be your priority at this time, if you open one while you are eligible, you can continue to save into the account for up to four years, even if you no longer claim UC. Our Help to Save press release explains more.
'New style' ESA can be paid from day 1 rather than day 8 for people suffering from COVID-19 or required to self-isolate in line with official guidance. It would appear that those who are shielding in line with Government guidance or those who have been told to self-isolate under the Test and Trace service can qualify for new-style ESA. You should contact the DWP or a welfare rights adviser to confirm the latest position with regards to new-style ESA in COVID-19 situations.
Employment Support Allowance: eligibility
In order to qualify for 'new-style' ESA, there are several National Insurance Contribution (NIC) requirements which are explained on the Entitledto website.
Please note that it is possible to fulfil one of the conditions with Class 1 NIC credits (which a person may get in various circumstances) and there are certain relaxations for the other condition.
You should be aware however, that if you are a person in very low-paid employment or self-employment, you are not necessarily going to easily meet those NIC requirements, particularly, for example, if you work in low-paid self-employment and have not yet have filed your tax returns (this is the method through which you pay NIC if you are self-employed).
If you are self-employed and have filed your tax returns, but for whatever reason have paid your Class 2 NIC 'late', then you should be aware that the Class 2 is treated as being paid six weeks after it is actually paid, the result being that your payment of ESA can be delayed. You can see this explained in HMRC's guidance.
(Note that the requirement for Class 2 to be paid by the first Sunday in January after the tax year in question so as not to be late, was later changed to 31 January after the tax year in question.)
We have not yet heard whether there are any plans to amend the 6-week wait provision in light of the coronavirus situation, although this is something we are trying to confirm with the authorities.
Access to Work grants
The Access to Work scheme provides government grants to help disabled people start, or stay in, work. It is open to the employed and the self-employed.
The coronavirus pandemic might have affected working life for some disabled people and may have even caused people to become disabled or to have long term health conditions for the first time. You might therefore wish to look into whether Access to Work can help you during this time.
You can read more about this in our news article Access to Work: can you benefit from a grant?