Coronavirus: Information for employers
Coronavirus: Information for employers
Updated on 18 September 2020
The coronavirus (COVID-19) outbreak is having far-reaching financial impacts on individuals and businesses across the UK, and indeed across the world.
This page answers questions that small employers are likely to have about sick pay, changing working hours, leave, laying people off and working from home.
⚠️ We are working hard to ensure this guidance is up to date – however you should bear in mind that things may change on a daily basis as the Government respond to the ongoing situation.
Paying Statutory Sick Pay (SSP)
If you have any staff who you pay under the PAYE system, who earn at or more than (£120 a week from 2020/21, who cannot work for the following reasons (provided they are off for at least 4 days in a row), then you may have to pay them SSP:
They are ill with the coronavirus or started self-isolating in accordance with government guidance on or after 13 March 2020 because someone they live with has coronavirus (even if they are not sick themselves). There is some helpful information on the NHS website about how long people need to self-isolate in various situations.

They have been shielding since 16 April 2020 (in line with government guidance). (As a result of the easing of lockdown measures, SSP will no longer be available to people on the basis of shielding from 1 August as from this date, the guidance is that you can go to work, if you cannot work from home, as long as the business is COVID-safe.)

They started self-isolating on or after 28 May 2020 because they were notified by the NHS or public health authorities including the 'test and trace system' that they've come into contact with someone with coronavirus. People required to self-isolate in these circumstances are asked to do so either for 14 days or until a date notified to them by the test and trace system. There is further information on GOV.UK about SSP in these circumstances for employees.
Under emergency legislation, they will be able to get SSP from the first day they are off work, rather than the fourth. This provision will apply from 13 March 2020. Although most payroll software has a 'three day waiting period' built in, you should be able to override this.
Detailed guidance has been published on GOV.UK to help employers work out an employee's SSP.
If an employee is entitled to SSP, the payment will be due at the same time as their normal wages (for example, weekly/monthly) and SSP payments will be treated as earnings for Pay As You Earn (PAYE) tax and NIC purposes.
If an employee is not entitled to SSP, for example, because they have exhausted their 28 weeks SSP maximum entitlement, then they won't be entitled to any more, even under the coronavirus provision, and should be served the SSP1 form and advised to claim welfare benefits.
For further information about SSP during the coronavirus and links to technical guidance to help you understand the rules in complex or unusual situations, see our dedicated pages on SSP for employees and SSP for the test and trace system.
Can I claim any reimbursement of SSP I pay out?
The burden of SSP generally falls on employers. However, further to the announcements extending SSP for those individuals affected by coronavirus, the government will support small and medium-sized businesses and employers to cope with the extra costs of paying coronavirus related SSP.
In particular, eligible businesses will be able to obtain a refund of eligible SSP costs. The eligibility criteria for the scheme are as follows:
this refund will be limited to two weeks per employee;
employers with fewer than 250 employees (as of 28 February 2020) will be eligible;
employers will be able to reclaim expenditure for any employee who has claimed SSP (according to the new eligibility criteria) as a result of COVID-19;
employers should maintain records of staff absences, but should not require employees to provide a GP fit note;
the eligible period for the scheme will commence from the day on which the regulations extending SSP to self-isolators come into force.
For more information about the Coronavirus Statutory Sick Pay Rebate Scheme, see GOV.UK.
What if my staff are not entitled to SSP?
SSP is the statutory minimum. If your staff do not qualify for SSP, then it is important to realise that it is perfectly possible for you to make an alternative arrangement with your employee, whereby you continue to pay them anyway perhaps, or you pay them over and above the statutory minimum.
The costs would obviously not be reclaimable from the government (although you may benefit from some of the other business support announced), but they would form a deductible expense for your business, just like any other staff salary costs.
Of course, this may not be possible due to your financial circumstances. In which case, your staff should consider whether they can claim contributory or 'new style' ESA or UC.
What should I pay my employees if I ask them to work from home?
Unless you change your employees' hours and/or pay, you should continue to pay them as normal.
As well as providing equipment etc. to an employee who works from home (which you can do on a tax-free basis), you may want to cover the cost of additional household expenses such as additional costs of heating and lighting.
If you cover any costs to the weekly limit (£4, or £18 a month for employees paid monthly) then you do not need to ask for evidence or report or pay anything to HMRC.
This amount goes up from £4 per week to £6 per week from 6 April 2020.
If (and only if) your employee does not already pay for a broadband internet connection at home, and needs one in order to work from home, you may also be able to reimburse this tax free.
Further guidance is available on GOV.UK.
If your employee has had to purchase office equipment, such as a desk and chair, then under recently relaxed rules, you can reimburse these on a tax and NIC free basis.
The announcement of the relaxation can be found here.
Can I force my employee to take annual leave?
If you do not have a contractual agreement with your employee on this, then the rules basically say yes - provided you give the appropriate notice.
Such notice should specify the day or days on which leave is required to be taken and the notice must be given twice as many days in advance of the earliest day specified in the notice as the number of days to which the notice relates. For example, if the employer requires the worker to take one week's annual leave at a particular time, it must give the worker at least two weeks' advance notice.
Can I change my employee's hours or pay during the outbreak?
This will depend on what is in the existing contract you have with your employee.
If you need to change your employee's contract, you can find some relevant information on GOV.UK. This advises that usually, the employer and employee both need to agree to any contract changes.
If you are after more detail on this, or if you cannot agree any changes with your employee, we can point you in the direction of this ACAS guidance which covers the possibility of serving notice to terminate the existing contract and offering to re-engage the employee on new terms.
What if I need to lay people off?
Sometimes, when circumstances change, you may no longer need an employee. As an employer, you can force an employee to take unpaid leave if there's not enough work available for them—commonly known as laying an employee off – this must be pre-established with a contractual provision in place. You can find out more about lay-offs on GOV.UK.
If your needs have changed significantly because of the coronavirus, and your employee's job simply no longer exists, there may be a redundancy situation.
Further information on redundancy can be found on GOV.UK and ACAS have produced an advisory booklet called 'Redundancy Handling' that is available from their website.
If you believe you need to make some staff redundant you should seek advice from an expert – we tell you how to do this below.
⚠️ Note: The Job Retention Scheme has been introduced to help employers who cannot maintain their current workforce because their operations have been severely affected by the coronavirus, keep staff on payroll. This may offer an alternative, at this time, to laying staff off or making them redundant.
Redundancy pay
Employees with two years' or more continuous service are entitled to statutory redundancy pay.
Statutory redundancy pay is not taxable/NICable and should not be included on a worker's P45. As such, if your payroll software cannot deal with it, you can pay it outside of your normal payroll processes, although you should give the worker a cover letter explaining what it is, in case they need a record of the income for other reasons – e.g. for benefits purposes. Keep a copy of the letter for your own records.
Of course, you can pay more than the statutory minimum redundancy pay, if you wish.
For guidance on how to deal with other elements that you may pay when an employee is made redundant (e.g. pay in lieu of notice or accrued holiday pay), see CWG2 – Further Guide to PAYE and NICs.
Where can I get further help and advice with employment law?
We are not employment law experts but to be helpful we have given you some basic information here, about matters that we think employers may have urgent questions about.
It is important to understand that employment law is a complicated area. If you are unsure at all about your obligations, you should ensure you take proper advice based on your circumstances rather than acting or refraining to act based on any of the content here. This may be from ACAS or from a local lawyer.
As an employer you are likely to need employer's insurance. Some insurance companies offer access to employment law specialists as part of their employer policies.
You should also be aware that the coronavirus situation is constantly changing, and it is important as an employer to keep up to date. The best way to do this is to keep checking back to the coronavirus pages of GOV.UK.
Coronavirus and minimum wage interactions
The Department for Business, Energy and Industrial Strategy (BEIS) has issued a bulletin addressing the issue of coronavirus in relation to the National Minimum Wage (NMW) and the National Living Wage (NLW).
The bulletin confirms that, despite current circumstances, employers still have a responsibility to pay at least the minimum wage to workers, and that workers cannot forfeit their entitlement to the minimum wage.
Moreover you should be aware that the minimum wage increases went ahead as planned on 1 April 2020, as set out in our recent news item Minimum wage increases - implemented as planned.
The bulletin sets out that the government has received questions relating to situations where workers are temporarily not working or having to work reduced hours, but where the employer wishes to continue paying them. The advice is that, if this is related to coronavirus, businesses should investigate whether the Coronavirus Job Retention Scheme is applicable.
If you are going to furlough workers in order to access a grant under the job retention scheme, then you can find some information on how to calculate your minimum wage workers grants here.
Loans/advances to employees
Guidance is also provided in the BEIS minimum wage guide (see above) to employers who are considering pay advances or employer loans for their workers.
For payroll purposes, if an employer and employee make an agreement under which the employer lends the employee money and the employee agrees to repay it at a future date or dates, then the amount is not reportable on the Real Time Information (RTI) submission. (You may however be providing the benefit in kind of an interest-free or cheap loan.)
Where there is a payment on account of earnings, when the employer agrees to pay the employee money the employee has earned but which is not yet due for payment, this is strictly reportable at the time the payment is made, although there is an easement for 'ad hoc' payments outside the normal payroll run, which may apply.
Further HMRC guidance on this issue can be found here.
What if I'm late sending my RTI submission/paying my PAYE bill because I'm ill or can't get to my computer?
Under RTI most employers must submit information electronically to HMRC each time they make a payment to an employee.
If you do not send in your payroll information on time (or at all) the position regarding penalties is as follows:
Penalties potentially apply to all employers for late filing of PAYE submissions. HMRC will usually informally allow a three-day grace period meaning that HMRC may not charge a late filing penalty for delays of up to three days after the statutory filing date.
In all cases, the first late submission of the tax year is ignored. However second and subsequent failures may attract a penalty – the details of how the penalty will be calculated are on GOV.UK, but broadly the penalty will be determined by the number of employees. The minimum penalty is £100 (applied per month, but charged quarterly). An additional tax-geared penalty may be applied if a return is outstanding for three months or more.
Brand new employers can send their first submission within 30 days of first paying an employee without incurring any penalties. This late filing is also ignored for the purposes of determining the first tax month in which a return is filed late.
Please note that where one of the concessions does not apply, late filing penalties will still not be charged if the taxpayer has a reasonable excuse.
A reasonable excuse is normally something unexpected or outside your control that stopped you meeting a tax obligation. We think that being ill with the coronavirus or having to self isolate away from your office or other place where you keep your computer/payroll software, should be considered a reasonable excuse.
HMRC have suggested that they will accept reasonable excuses from late filing or late paying taxpayers who are generally compliant without further investigation.
You are usually able to tell HMRC you have a reasonable excuse, using your payroll software. Here is the screen shot for HMRC's Basic PAYE Tools payroll program: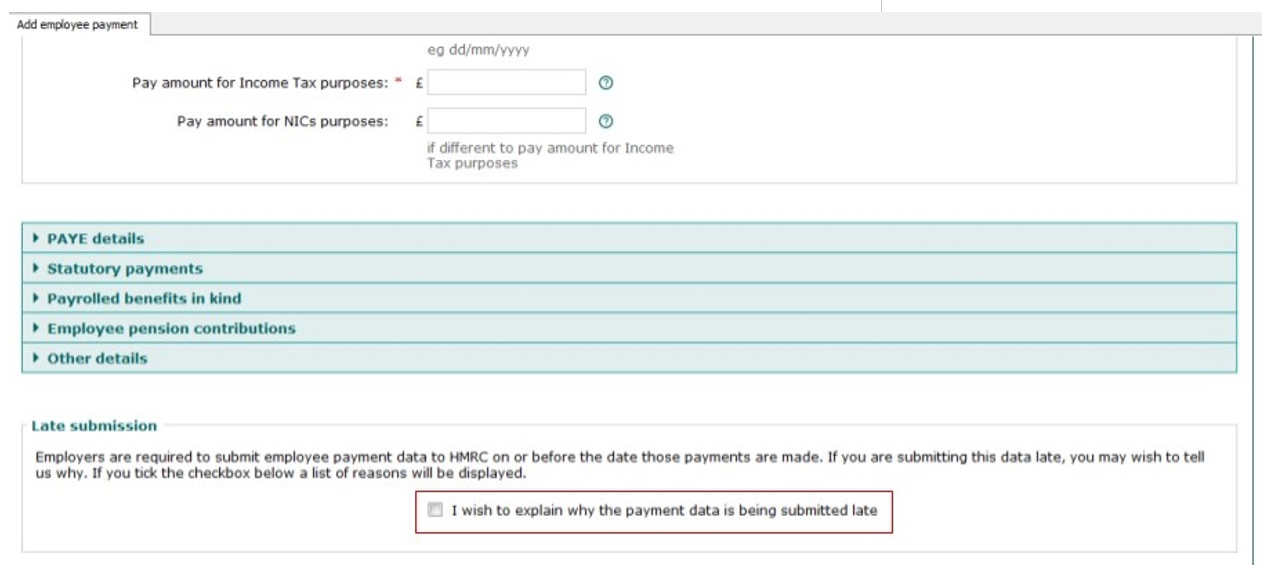 You are not usually required to give details of what the reasonable excuse is at this stage but you should keep a note of your situation, how you have been affected by the coronavirus and how this has in turn affected your ability to deal with your payroll on time, in case you are asked for more information at a later date.
If you forget to claim reasonable excuse at the time you make the RTI submission, or for whatever reason HMRC still send you a penalty even though you have selected 'reasonable excuse', then you are able to appeal online against a filing or payment penalty, using HMRC's Online Service. Once you have logged in, select 'Appeal a penalty'.
You can also send a late filing appeal in writing to:
National Insurance Contributions and Employers Office
HM Revenue and Customs
BX9 1BX
You should note that HMRC have a different penalty regime for late payment of PAYE tax and NIC, however the reasonable excuse safeguard still applies.
What if I can't afford to pay my PAYE bill at all?
If you pay your PAYE bill monthly, then the amount for the period 6 February to 5 March, was due on 19/22 March (depending on your payment method). The amount for the period 6 March to 5 April was due on 19/22 April and so on.
If you pay your PAYE quarterly, then the amount for the period 6 January to 5 April will be due on 19/22 April (depending on your payment method). The amount for the period 6 April to 5 July will be due on 19/22 July and so on.
You may be having cash flow difficulties at this time and have missed a payment already or know that you will not be able to pay what you owe HMRC on time or at all.
In light of the situation, HMRC have set up a dedicated coronavirus helpline (0800 024 1222), and are urging anyone worried about payments to call them to discuss the options available, which will include considering a bespoke Time to Pay arrangement so that amounts can be paid off over a period of time, and possible suspension of any ongoing debt recovery action.
HMRC intend to make up to 2,000 experienced call handlers available on this line, however due to their own measures that have been put in place to stop the spread of the coronavirus they have not yet been able to scale up to this level. The line is currently staffed between 8am and 4pm Monday-Friday, although the intention is for the line to be open 8am-8pm Monday-Friday and 8am-4pm on Saturday as soon as possible. We understand that the line is very busy and so there can be a significant waiting time before calls are answered. HMRC are suggesting that if you are calling them about a future tax bill you call back nearer the time or check GOV.UK for guidance at this stage.
If you reach an agreement with HMRC to pay your PAYE bill over a period of time then you should not be charged any late filing penalties once the agreement is in place, however you will still be charged interest.
What expenses and benefits can I give to my employees on a tax and NIC free basis?
HMRC has published specific guidance on how to treat certain expenses and benefits provided to employees during coronavirus (COVID-19).
Note that an area of difficulty arises around paying for taxis to and from work as under the current rules, this is a taxable benefit-in-kind unless it's a late-night taxi home.
Furthermore paying for hotel accommodation (or rent a property) close to work, or in order to isolate employees from high-risk or infected relatives/housemates is currently also a taxable benefit in kind. Indeed, HMRC have provided the following statement where care-workers have stayed in care homes during COVID-19 to protect their own families and shield the care home residents:
"Where a care home worker has been provided with accommodation in their workplace due to the COVID-19 outbreak, unless this is living accommodation, it would fall under existing board and lodging rules. The benefit is the cost of the accommodation to the employer, for the care home providing the accommodation this will be the marginal additional cost occurred to allow the worker to stay in the care home. If the care home has spare accommodation that care workers use, the additional cost will be some laundry and some additional meals. In response to the pandemic, HMRC have allowed employers to report Coronavirus related benefits via a PAYE Settlement Agreement (PSA). This would allow employers to pay any arising tax obligation on behalf of the employee.
"More information on benefits and expenses during Coronavirus can be found here."