Disabled people and carers
On this page we provide additional answers to questions regarding entitlement to tax credits for foster carers and shared lives carers ('qualifying carers').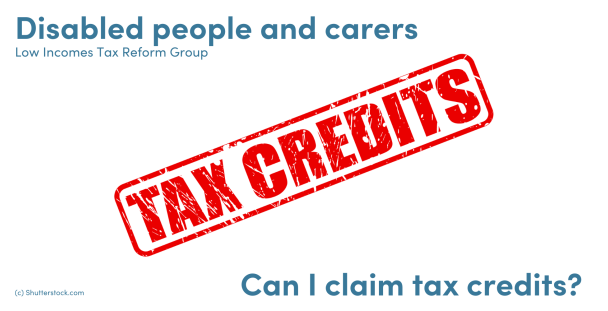 This information is provided in addition to our main section on tax credits and benefits.
Will I get working tax credit (WTC)?
To be able to get WTC you need to be in qualifying remunerative work. In a nutshell this requires you to be working or about to start paid work, to be over a certain age and to work for a certain number of hours a week.
The work you do as a qualifying carer will fall under this heading if you are paid under a contract of employment as an employee or you are paid for your care services as a self-employed carer (that is, if your caring activities are treated as qualifying remunerative work).
You should bear in mind that in the case of a joint claim, you and your spouse or partner may have other work apart from caring and this may also be qualifying remunerative work for WTC purposes.
There is more information in the tax credits and benefits section.
Will I get child tax credit (CTC)?
You can get CTC if you are responsible for one or more children or qualifying young persons.
You are treated as responsible for your own children, providing they normally live with you,but not for a child or young person who has been placed with you by the local authority, and is looked after by the local authority. For example, you can claim CTC for your own children, but not for your foster children.
This also applies if you are a potential adopter but the local authority pays you for accommodation or looking after the child or both.
However, adopters and guardians of children or young persons who have parental responsibility for them (for example, under a special guardianship order or a residence order) can claim to be responsible for the child in their care and so can get CTC for them.
With CTC, it does not matter whether or not you are in work.
From 6 April 2017 the rules limit the number of child elements you can receive to a maximum of two children. Children born before 6 April 2017 are not affected by the change and there are some exceptions, including one for non-parental care arrangements, that mean you can get more than two child elements even for children born after 6 April 2017.
There is more information on tax credits generally including the 2 child limit in the tax credits and benefits section.
How does my income from caring affect the tax credits I get?
The amount of tax credits you get will be based on the level of your household income (the combined income of you and your partner if you have one).
Qualifying care receipts paid by local authorities and similar agencies are only taken into account in working out tax credit income to the extent that they are taxable. Therefore, if you use the qualifying care relief simplified method for working out your profits for income tax Self Assessment, your income from caring for tax credits purposes will be the amount on which you pay income tax. If your care receipts are wholly covered by the qualifying care relief exemption, then none of your income from caring is counted in assessing your tax credits entitlement.
Also, if you use the standard method, your caring income for tax credits will be the same as your taxable profits after deductions.
There is more information in the tax credits and benefits section.
How will universal credit affect me?
For most people, HMRC state it is no longer possible to make a brand new claim for tax credits. HMRC and DWP expect most tax credit claimants to have moved over to UC (or to pension credit) by the end of 2024. In the meantime, tax credit claimants can move to UC if they choose to do so, need to claim another benefit which UC has replaced (such as housing benefit) or have a change in circumstances that ends their tax credit award and they cannot make a new claim for tax credits but need to continue claiming support. It is important to get advice before claiming UC if you are already claiming tax credits.
You can find out more in our universal credit section.