You are a part-time student if you are a student and you are not enrolled on a full-time course. This should be clear from your course material.
You may have chosen to spread your course over a longer period of time, or the course may have been set up as a part-time learning course.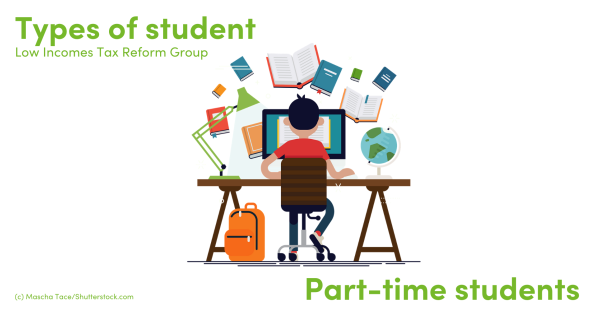 What will cause me to interact with the tax system?
As a part-time student, you may have time to become involved in other things such as working or volunteering. You might also be taking part in employer-sponsored training, be an apprentice or a sandwich course student. Perhaps you have caring responsibilities that take up some of your time.
Any of these activities may cause you to interact with the tax system.
I am a carer as well as a student. What help is available?
You may have caring responsibilities to manage on top of your studying. This can be caring for a child, a parent, a partner, a sibling or another friend or relative. If you are in this position, you are not alone.
The extent of the caring required will vary, but for some students this will take up a large amount of time.
The Government's GOV.UK website has a lot of information about benefits. It also has links to online benefits calculators, and while these calculators may not be useful for you as a student they may be helpful for the person you are caring for.
However, in order to ensure you and the person you are caring for obtain all the benefits you are entitled to, based on your individual circumstances, we recommend you speak to a local welfare advice agency. Our Getting Help pages give information on how to find an adviser.
You can find more information on carer's allowance in our tax credits and benefits section; if you live in Scotland you may also be entitled to the carer's allowance supplement.
Where can I find further help and information?
Elsewhere on this website you can find information on the following topics that may be of relevance to you as a part-time student: