How do I claim universal credit?
How do I claim universal credit?
This page aims to help you claim universal credit and where to go for more help.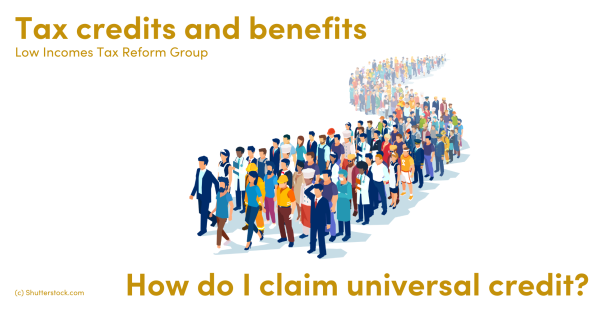 Who can claim?
Universal credit (UC) has a number of conditions that must be met in order to establish entitlement. However, before considering the entitlement conditions of the benefit, this page considers who is eligible to submit a claim.
Universal credit is now fully available in all parts of the UK, this means that most people are eligible to submit a claim for UC (although that does not mean they will be entitled to UC).
However, you will not be able to claim UC if you are a 'frontier worker'. Frontier workers are people who are 'in Great Britain' (under Section 4(1)(c) Welfare Reform Act 2012) or 'in Northern Ireland' (under Article 9(1)(c) of Welfare Reform (Northern Ireland) Order 2015) but do not reside in either GB or NI. Crown servants or members of HM Forces who are posted overseas (as defined under the UC Regulations 2013) are not frontier workers.
If you fall into this group, you can continue to claim existing benefits such as tax credits instead of UC.
If you are single and have reached your state pension credit qualifying age or are part of a couple and you have both reached your state pension credit qualifying age, you will not have any entitlement to UC as there is an upper age limit although you may be able to claim pension credit, depending on your circumstances.
You can find out more about the basic and financial entitlement conditions for UC on our website for advisers.
How do I claim?
You will usually need to claim UC online, using a computer.
To claim, you will need to use the GOV.UK website and follow the instructions.
⚠️ Please note: Due to the impacts of the coronavirus outbreak in the UK (March 2020), DWP have introduced some temporary easements to the online claims process and suspended most face to face appointments. Normally, during the claim process you will need to book an appointment at a Jobcentre office to discuss your claim, confirm identity, and if self-employed, demonstrate you are in gainful self-employment. For the duration of the outbreak, these appointments will be mainly by telephone and DWP will contact you to arrange a suitable telephone appointment with one of their UC team. As of April 2021, DWP are starting to re-introduce face to face services – you should check with the UC helpline for the latest arrangements.
What if I do not have or cannot use a computer?
Claiming by computer may prove difficult for some, who either do not have or cannot access a computer for various reasons and the Department for Work and Pensions (DWP) has confirmed there will be telephone support and the option of face to face support for people who have difficulties claiming on line.
If DWP agree, they may allow you to make your claim by phone. You should phone the UC helpline on 0800 328 5644 to get help with making your claim.
If you do not have a computer, you may be able to use one in your local library or welfare group or your local Jobcentre Office may be able to help you.
Is there a helpline?
Claimants can get help with their online claim by calling the UC helpline:
Phone: 0800 328 5644
Welsh language: 0800 328 1744
Textphone: 0800 328 1344
Opening hours: Monday to Friday 8am to 6pm
More information
For more detailed information about claiming UC, please visit our website for advisers and the Government information on the following pages: