My family has given me some money: might I need to pay tax on it?
⚠️ Our Tax Guide for Students guidance has moved to the LITRG website. If you are a student or have a student loan and have a query about any of the issues we cover in this section, please let us know by filling in the Contact Us form.
My family has given me some money: might I need to pay tax on it?
If you are fortunate enough to have received some financial support from parents or other family members who can afford to give or lend money while you are studying, you will want to know what the tax implications are, if any?
The tax position depends on whether the support is through a loan or a gift of cash. 
This page relates to students who are domiciled in the UK. If you are a student from overseas you should also read the pages on domicile and remittances.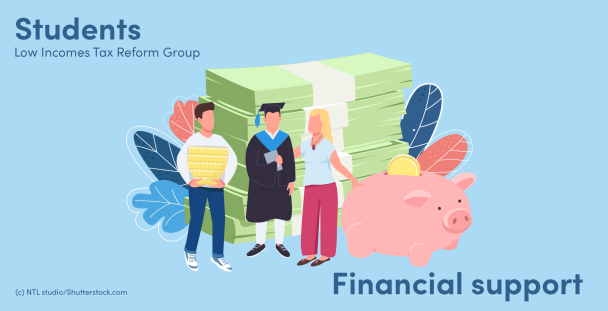 My family have lent me money during my course: what are the tax implications?
There are unlikely to be any immediate tax consequences if parents or other family members make you a loan. But if you agree to pay them interest, the lender may have to pay tax on the interest they receive, depending on their individual tax position.
If eventually the loan is not repaid and the lender says that they never want you to pay it back, it becomes a gift and will then come under the rules for gifts (see section below).
A loan does not become a gift until the lender agrees that they are not expecting you to pay it back.
My family have given me some cash: do I need to pay any tax?
You do not pay tax on a cash gift, but you may pay tax on any income that arises from the gift – for example bank interest. You are entitled to receive income in your own right no matter what age you are.
You also have your own personal allowance to set against your taxable income and your own set of tax bands. This means that for the 2021/22 tax year you will be able to earn £12,570 without paying any tax, you also have a personal savings allowance which means if you are a basic rate taxpayer the first £1,000 of savings is taxed at a 0% rate of tax.
However, there are additional rules if you are under 18 and receive money from your parents (see below).
I am under 18 years old: will any gifts from my parents be taxed?
If you are:
under 18 and not married or in a civil partnership
and one of your parents (including step-parents) provide you with funds by gift (directly or indirectly); and
the total funds given to you by that parent produce income of over £100 before tax each year (for example, interest on savings), then
this entire income (not just the excess over £100) will be treated as a 'parental settlement' which means it is taxed as your parent's income, not yours.
If you are under 18 and your grandparents or other family members provide the funds instead, these rules do not apply and they can make any level of gift even if the resulting annual income is over £100.
If you are 16 or 17, the parental settlement rules also apply where your parents make a gift to an ordinary (adult) Individual Savings Account (ISA) in your name and the income is over £100 before tax each year, even though income arising from ISAs is usually tax-free. However, if the gift is to a Junior ISA, these gifts do not fall under the parental settlement rules. A Junior ISA automatically becomes a regular ISA when you become 18 years old. For more details on Junior ISAs see GOV.UK.
You also need to bear in mind that your income counts when looking at the level of student loan you can get, so any income from a parental gift may have an effect on your application.
---
Example
Ross is 16 years old and studying at college. His income in the 2021/22 tax year, and its origin, is as follows:
1. On his last birthday his grandmother made a gift to him, which she had invested in a building society in his name. During 2021/22 the interest received is £600.
2. Ross's father sold a house he had inherited from his grandfather in his will. He used part of the money to make a gift to his son on his birthday. The money was invested in an interest-paying bank account and the interest received for 2021/22 is £200.
Ross has no other income apart from the above amounts.
The tax treatment of the above items is as follows:
1. The income of £600 from the money that his grandmother has invested for him is treated as Ross's income in his own right. The amount Ross receives of £600 is paid without tax being taken off. Ross can use his tax-free allowance of £12,570 against the interest and pay no tax. If Ross has already used his personal allowance, then he could use his personal savings allowance.
2. As the income on the account set up by his father is more than £100, the £200 interest from the bank account will be treated as Ross's father's income. His father will need to pay any extra tax that is due.
---
I am under 18 years old: will every gift from my parents fall under the 'parental settlement' rules?
No, not all gifts from parents will be subject to the 'parental settlement' rules; some of the more common exceptions to these rules include:
gifts or capital sums that are given to you by one of your parents that produce in total less than £100 income before tax each year
Child Trust Funds
Junior ISAs
pension contributions paid by your parents on your behalf. Your parents can contribute up to £2,880 tax-free and the Government tops up your pension pot by 25%, up to a maximum tax-free pension contribution of £3,600 each tax year. So even if you do not pay tax you will still get the benefit of the extra tax being added to the payment. The money is not available to you until you retire and there are restrictions on when you can retire, and how much you can take out. GOV.UK has a section Plan your retirement income if you want to read more about saving for retirement.