What counts as income for tax credits?
⚠️ Universal Credit (UC) is a new benefit which will eventually replace tax credits, and some other social security benefits. Universal credit is now available across the UK and HMRC state that most people are no longer able to make a brand-new claim for tax credits and are expected to claim UC (or pension credit) instead. Existing tax credit claimants (under state pension age or in a mixed age couple) are expected to be moved across to universal credit by September 2024 following a pilot exercise involving no more than 10,000 people, although this may change due to the impacts of the coronavirus outbreak in the UK. You can find out more about this in our universal credit section.
What counts as income for tax credits?
The amount and type of income you (and your partner, in a joint claim) have will affect how much tax credits you might get. The rules are the same whether you are claiming child tax credit (CTC), working tax credit (WTC), or both. This page tells you what counts as income for tax credits.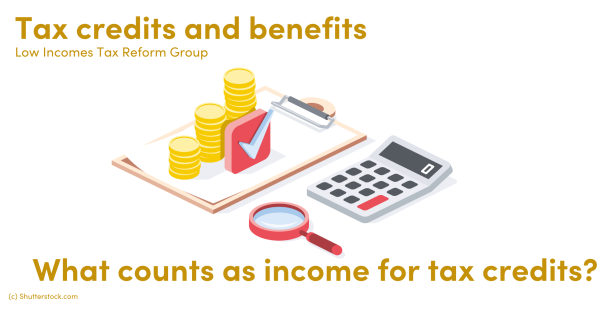 The four steps
The legislation, like a set of do-it-yourself carpentry instructions, prescribes a series of four steps to work out tax credit income. The form does not require this, but we set out the steps below in order to give a complete picture.
1. Add together:
pension income
investment income
property income
foreign income
notional income.
If the total is £300 or less, ignore it. If it is more than £300, subtract the first £300. Note that there is no notional capital rule as for social security benefits – only the income from savings is counted.
2. Add together:
employment income
social security income
student income
miscellaneous income.
3. Add together the amounts in Step 1 and Step 2.
4. Add trading income to – or if there is a loss subtract trading loss from – the total in Step 3.
Then deduct:
bank conversion charges or commission
gross gift aid, payroll giving or give as you earn donations made in current year
gross pension contributions.
The rest of this page gives some basic information about income and tax credits. You can find more detailed information about each category of income on our website for advisers.
What does annual income mean?
Tax credits are worked out using yearly rates, so you need to provide an annual income figure. HM Revenue & Customs (HMRC) use the tax year as the basis for their calculations so any annual income figures you have to provide should, therefore, be the same, that is from 6 April one year to 5 April the next year.
Even if your claim ended part way through the year, or started part way through the year, HMRC still need you to provide your annual income for the tax year.
If you have received coronavirus payments – see our tax credits and coronavirus page.
Where can I find my annual income figure?
If you are an employee, the end of tax year statement you get from your employer (a P60) should give you the information you need for your tax credit claim. The figure you need is the gross income amount, before tax and National Insurance.
If you get benefits from the Department for Work and Pensions (DWP), you should get a statement of taxable benefits at the end of the tax year.
If you are self-employed, you should normally use the business profits (or loss) figure from your Self Assessment tax return.
Do I include maintenance payments?
Any maintenance payments you get, whether for a child or yourself, are ignored.
Do I include statutory payments while I am off work?
Statutory sick pay is counted in full as earnings.
Statutory maternity, paternity, parental bereavement, shared parental leave and adoption pay is also counted as earnings, but only the amount over £100 a week is taken into account.
Do I include payments I get for fostering or looking after children?
Qualifying care receipts paid by local authorities and similar agencies are only taken into account in working out tax credit income to the extent that they are taxable. Therefore, if you use the simplified method for working out your profits for income tax Self Assessment, your income from caring for tax credits purposes will be the amount on which you pay income tax. If your care receipts are wholly covered by your tax-exempt amounts, then none of your income from caring is counted in assessing your tax credits entitlement.
Also, if you use the standard method, your caring income for tax credits will be the same as your taxable profits after deductions. You can find out more about taxable income for foster carers and shared lives carers in our disabled people and carers section.
Do I include benefits?
Taxable state benefits should be included as social security income. However, income-based Jobseekers Allowance although taxable is not counted as income for tax credit purposes. Carers Allowance Supplement – available to those living in Scotland only – is also taxable but is not counted as income for tax credit purposes. Not all benefits are taxable; see our page on State Benefits for more information.
In this context – taxable benefits means benefits that are liable to tax, it does not matter whether you individually pay tax on them or not.
⚠️ Important: the rules on what counts as income can be quite complex, so check the information on GOV.UK and if you are still not sure what to include, ring the Tax Credit Helpline.
Changes to property income
From 6 April 2017, there were changes to how property income is calculated for tax purposes for residential landlords. The change basically means that there will be a restriction on how much you can deduct as expenses for finance costs including mortgage interest. These tax changes were introduced gradually and since 2020 no expense deduction has been allowed for finance costs and instead you will need to claim a tax relief instead. See GOV.UK for more information.
However, for tax credits, you will need to continue to calculate your income as you did before 6 April 2017. This means that you can deduct finance costs as an expense when working out your profit for tax credit purposes only. While this is better for tax credit claimants, it does mean that you will need to work out a figure for tax credits that is different to the figure you will need to put on your tax return as your taxable property income.
In-year finalisation
If you have claimed tax credits and then claim universal credit in the same tax year, your tax credits award will stop and HMRC will finalise your award in-year (that is, before the end of the tax year). If this happens, HMRC will write to you and explain what you need to do. It is important to note that the income figures you provide will be for the shortened award period and not for the full tax year. You can read more about this in our stopping tax credits section.
More information
This page gives an overview of what counts as income for tax credits. For more detailed information, visit the following pages on our website for advisers.