Labour Market Intermediaries
Labour Market Intermediaries
Published on 24 March 2021
We are pleased to publish our report 'Labour Market Intermediaries: a technical report outlining how umbrella companies and other intermediaries operate in the labour market and the implications for workers who use them'.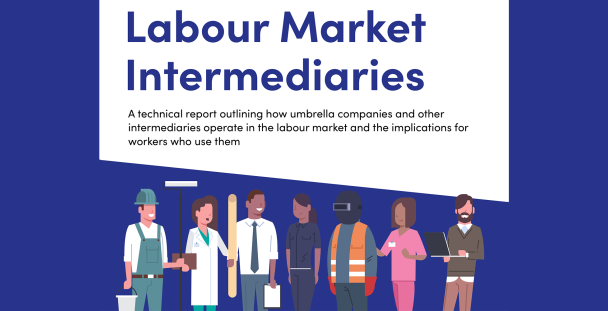 Our report is a factual report and does not seek to draw conclusions or make recommendations.
Instead we put together evidence from a range of sources, to help form an overall picture of the marketplace that we hope will provide a useful contribution to the debate about umbrella companies.
The report can be read as one or as it is split up into fairly discrete topics, for example, travel expenses, regulation or disguised remuneration, can be dipped into by people with a specific interest in a particular aspect of umbrella companies and other labour market intermediaries.
A summary of the key facts and findings can be found in the infographic at the front of the report.
We hope the report will be useful to a range of stakeholders – government and workers alike to help advise themselves about where the real issues lie, by umbrella companies and the industry to improve standards and by policy makers and advocates to work out where best to direct energy and resources going forward.
The report can be found here.
Contact: Meredith McCammond (click here to Contact Us)
First published: 24/03/21