I am on a training contract: do I have to pay tax on sponsorship and other expense payments?
I am on a training contract: do I have to pay tax on sponsorship and other expense payments?
The training contract is between you and your employer. Various rights and duties for both you and your employer will be laid out in that contract. Depending on the type of contract you have, payments made for your training and associated expenses may or may not be taxable.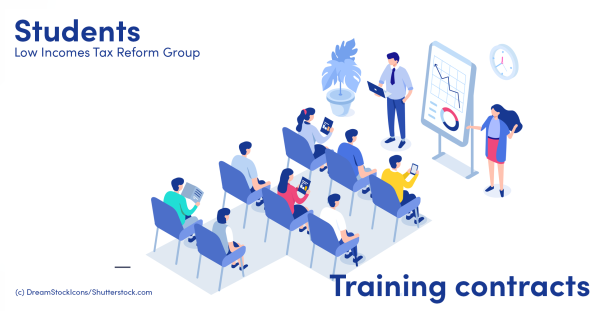 What is a training contract?
A training contract is understood to be a contract of employment where your employer agrees to provide you with some training as part of your employment, no matter what the contract is called.
Your employer may pay for you to attend certain training courses so that you can perform your job better. The full costs of this training that are paid for by your employer, including any accompanying books, travel and so on will be tax-free to you.
The tax-free nature of these payments includes the costs borne by your employer as regards work-related training within the whole range of practical or theoretical skills and competencies you are reasonably likely to need in your present or future jobs with your employer. It does not matter whether your employer bears the costs directly or instead you pay the costs and your employer then reimburses you.
The exemption extends to:
training activities such as first aid and health and safety in the workplace;
employee development schemes;
activities intended to develop skills you need in leadership; and
any training which is provided by a third party rather than your employer, but it does need to be relevant to your present or future jobs with your employer.
All the ways in which training can be delivered are covered including full-time and part-time training, internal training courses run by your employer, courses which are run externally or by a third party, and courses which comprise any mixture of these.

The tax exemption also covers:
travel and subsistence expenses, to the same extent as if you were undertaking employment duties while training;
other incidental costs, such as additional childcare expenses directly related to your undertaking the training in question;
costs which relate to examinations and registration of qualifications; and
costs of multi-media and distance learning aids, practical course materials and books.
⚠️ Training, or training-related travel and subsistence, which is provided as entertainment, recreation, reward or an inducement, remains taxable.
Any asset provided to you or for your use is also taxable unless the asset is provided or used purely for training, or for training coupled only with use in the performance of your employment.
Assets provided to you by your employer for your private use remain taxable in the normal way.
My employer has paid for me to get specific training. Am I going to be taxed on the cost of this?
Assuming this is training related to your work, there will be no tax liability arising. This exemption from tax will almost certainly include training in management and basic computing skills. If the training is not work related, though, you will be taxed on that cost. So, if, for example, your employer paid you to obtain cookery lessons, but you normally work as a mechanic, you should expect to pay some tax.
You may also find it useful to read our pages on employment expenses in our Employment section.
What are 'employer-sponsored courses' and how does this affect my tax?
Normally when your employer sends you on training courses, you continue to pay tax and National Insurance contributions (NIC) on your wages. This would be the case if, for example, you are studying towards a qualification and working at the same time, or perhaps going on 'day release' or short-term courses.
But a special rule, called Statement of Practice 4/86, may apply where you are an employee and you are released for study, described perhaps as a sandwich course at a university or college.
Under these rules, your employer may be able to make payments to you free of tax and NIC. Your employer would be making such payments to support you while you are studying full-time, not for when you are working at your job.
To qualify for the exemption from tax and NIC you must:
be studying full-time at a university, technical college or similar educational establishment, which is generally open to the public and offers more than one course (so an employer's in-house training would not qualify);
be enrolled for at least one academic year; and
attend the course for at least 20 weeks in that academic year or, if the course is longer, you must attend for at least an average of 20 weeks in an academic year.
If all of these conditions are met and your study continues, your employer may pay you up to £15,480 tax and NIC free for the 2023/24 academic year, that is, from 1 September 2023.
The £15,480 total includes accommodation, living and travel costs, but tuition fees do not count towards the limit. Tuition fees are separately exempt as long as the course is 'work-related training', which means it will help you do your job better or is for a qualification relevant to your job.
The exemption only covers periods when you are away from work studying. However, if you go back to work, for example, during vacations, your earnings for those periods will be taxed and have NIC deducted as usual.
You also need to be careful because the exemption may be lost entirely if your employer paid you at a rate higher than £15,480 for the year. If the rate changes during the year to a rate higher than £15,480, then sums paid prior to the change that were within the limit should still count towards the exemption, but all amounts paid once the rate was increased would be liable to both income tax and NIC.
If you come under this exemption, your entitlement to state benefits could be affected because while you are not paying NIC, you are not building up a contribution record. Our What is National Insurance? page provides more information.
Where can I find more information?
HMRC's Employment Manual provides information on employer-sponsored courses at EIM06205.