I am a volunteer: are there any tax rules I need to be aware of?
⚠️ Our Tax Guide for Students guidance has moved to the LITRG website. If you are a student or have a student loan and have a query about any of the issues we cover in this section, please let us know by filling in the Contact Us form.
I am a volunteer: are there any tax rules I need to be aware of?
Even if you are not paid for the actual work you do, you may be paid expenses to compensate you for some of the costs associated with volunteering or being an unpaid intern. These expenses must be paid in accordance with certain guidelines to ensure they are not taxable.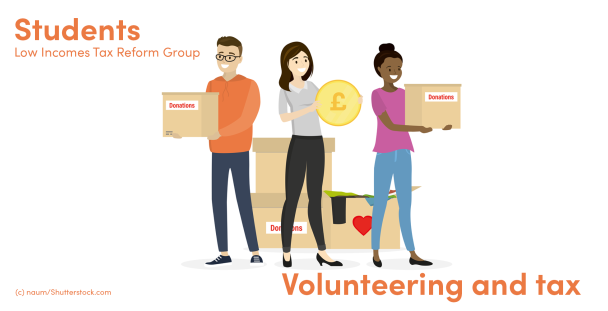 What expenses can I be paid tax-free?
As a volunteer you may be paid tax-free for any out-of-pocket expenses incurred to allow you to perform your role.
These can include:
travel expenses (including home to work base)
postage and telephone
protective clothing.
The costs of home to work travel are almost always taxable if paid to an employee, so it is important that you are satisfied that you are a volunteer. This should be clear from the agreement you have made for the work you are doing.
The expenses paid must be supported by receipts or be a reasonable estimate of the cost. If the expenses paid are more than the actual expenses incurred (or scale rate, see below), the excess payment will be treated either as employment income or as other taxable income. So if you were paid a round-sum allowance, for example, it is crucial that you keep receipts to show that the sum paid was all used for relevant expenses.
How do I claim the cost of using my own car?
Because it is very difficult for you to estimate the actual cost of using your own transport to travel to the workplace premises, there are instead agreed mileage rates that can be paid without incurring any tax liability. You can find these in our Employment section.
As well as these payments, there are extra payments that can be made if you carry other volunteers in your vehicle while travelling to the same workplace.
You can be paid up to 5p per passenger per mile for such journeys.
You need to keep records to show that the expenses claimed are reasonable.
For example, you might keep a diary of the dates you volunteered at the charity in order to substantiate your claim for mileage costs.
Note carefully that these are the maximum rates that can be paid without incurring a tax liability: you may be paid less.
Where can I find more information?
You can find more information relating to expenses in our Employment section.