Getting help with bereavement and inheritance tax
Getting help with bereavement and inheritance tax
We have some general information on how to get help with tax matters on our Getting Help page. For bereavement and inheritance tax matters, there are however some other sources of information and support that you might find helpful. We therefore list some further places to seek help and guidance below.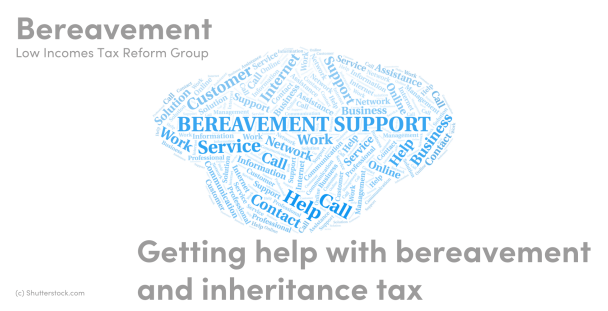 Where can I find more general information on what to do after someone dies?
This website concentrates on tax and related information. To find out about more general things you need to do when someone dies, including registering the death, see the guidance on the following government websites:
A broader range of information on bereavement-related matters can also be found on GOV.UK.
If the deceased lived in Scotland, you might find the guide What to do after a death in Scotland helpful, on the Scottish Government website. If you live in Northern Ireland, similar information can be found on nidirect.
How can I get help from HMRC?
HMRC's bereavement helpline can offer practical help.
This is a time when you are likely to feel emotional and you may find it more difficult to ask your questions and to understand the answers you are given. HMRC can offer extra support at this time. HMRC's Extra Support Team members have more time to spend on a call with you and can help you with tax issues.
Where do I get professional advice relating to a bereavement, or inheritance tax?
If the deceased was on a low income and you are unable to come to an agreement with HMRC, you may qualify for free assistance from Tax Help for Older People, where the deceased was aged over 60, or from TaxAid if the deceased was younger or self-employed.
You can find a tax adviser on the Chartered Institute of Taxation website.
There is also a Society of Trusts and Estates Practitioners (STEP), which has a membership directory that you can search. You can find a solicitor on the website of The Law Society or the Law Society of Scotland or the Law Society of Northern Ireland, as appropriate.
Can my local authority help?
Your local authority might be able to direct you to sources of bereavement support. Find out what might be available by using the following websites: