What taxes need to be dealt with when someone dies?
What taxes need to be dealt with when someone dies?
When a person dies, there are tax issues to be dealt with. These include bringing the deceased's tax affairs up to date and dealing with any income or gains that arise in connection with their estate (by 'estate' we mean everything they owned at death, such as their money and possessions). Here we explain the different taxes, who should deal with them and signpost you to more help. You may find it helpful to refer to the bereavement jargon buster.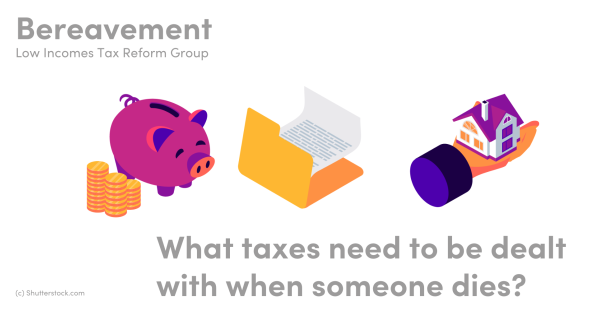 What taxes need to be dealt with?
We provide separate information on taxes that need to be dealt with as follows:
Council tax
Council tax on any property occupied by the deceased needs to be considered. The local council should have been notified of the death through Tell Us Once, but you might still need to contact them to clarify the position after death. For instance, it may be possible to obtain a council tax reduction after the death if the property is, for example, occupied by fewer people or is unoccupied awaiting grant of probate.
If the deceased was being cared for elsewhere before their death, leaving their home unoccupied, it is also worth checking whether a council tax exemption was claimed for that period up to the date of death. You should contact the relevant local council – there is a tool on GOV.UK to find the right one by the property's postcode.
Taxes if the deceased ran a business
If the deceased ran a business, there may be other issues to be considered such as:
The personal representative may well find that some or all of these business tax issues have been dealt with by a professional in the past and can choose to continue with that relationship, if they wish. Alternatively, they can choose to deal with those matters themselves, or appoint another adviser. It is crucial, though, that any taxes relating to the business are dealt with promptly.
Where the deceased worked for themselves, you can find information relating to tax matters in our self-employed section. You can read more information in our LITRG Guide to Self-Employment, within which you may find the 'Stopping your business' section useful.
GOV.UK gives information on corporation tax, but you should note that a limited company does not come to an end because its owner (or shareholder or director) dies. The company is a separate legal entity.
Who deals with the tax affairs of the deceased?
It is the executor or administrator who is responsible for dealing with the deceased's tax affairs. An executor is named in the deceased's will. If someone has died intestate, in other words they had not written a will, and you are dealing with their estate, you are known as an administrator. In Scotland, the person who deals with an intestate estate is called an executor.
The executor or administrator of a deceased person's estate can also, generically, be called their 'personal representative' and that is the term we shall use when referring to executors and administrators generally. Read about them in the jargon buster.
In some cases there will be more than one personal representative. The personal representative(s) can ask to be assisted by a professional (like a solicitor) whom they will need to pay.
What if I do not want to be a personal representative (an executor)?
If someone has died and appointed you as an executor in their will, but you do not wish to be an executor, you do not have to. Instead, you can 'renounce' your role as executor. In order to renounce your role as executor, you need to sign a deed of renunciation and submit it to the Probate Registry. There is a form (PA15) on GOV.UK to do this. However, as this is a legal matter, we strongly recommend you take advice from a qualified legal professional.
If you wish to renounce your executorship, you must do so before doing anything that could be considered to be part of the executor's role. If you carry out any duties of an executor, you cannot renounce the role, although you can delegate the role to an adviser (you can find more information on finding an adviser on our Getting help with bereavement page). Even if you delegate these responsibilities to an adviser, you will still remain responsible for the accuracy of any documents or other information provided to HMRC and thus it is important that you review the information provided by the adviser to the best of your ability.
If the will appointed other executors as well as you, they can usually apply for probate and carry out the duties without you. If the will did not appoint any other executors, then someone must apply to court to be appointed as administrator of the estate.
Be aware that if you renounce your role as executor, you give up your right to be involved in the affairs of the deceased's estate entirely. However, it does not mean you give up your right to benefit from the estate if you are due an inheritance.
What if we can't find the will?
If you do not know where the deceased put their will, you should try searching through the deceased's possessions and correspondence. Also, try contacting any professional advisers (for example, solicitors, tax advisers or accountants) they may have dealt with in the past. These advisers may have a record of when a will was made and where it might be found.
If made through a solicitor, the existence of a will and its location may have been noted with the National Will Register which is endorsed by The Law Society. Some wills may have been filed with HM Courts and Tribunals Service.
If no original will can be found, in some circumstances it is possible to use a copy of a validly executed will (this may be done, for example, if the deceased had given their executor a copy). In this case, you will need to take legal advice so that the correct documents may be provided to court to enable them to take a decision.
Ultimately, if no will or copy of a will is found, or a will is found but is invalid (see the Making a will guide on GOV.UK for what makes a valid will), the intestacy laws will apply.
Who is appointed as personal representative if there is no will?
Normally a family member is appointed to act as the administrator (for example a spouse or child) but this is decided by the relevant court, depending on where the deceased lived.
What are the first steps to dealing with the deceased's tax affairs?
You will need to make sure the relevant authorities know about the death. This includes both the Department for Work and Pensions (DWP) who may be paying the state pension and other benefits, and HM Revenue & Customs (HMRC). You can get general information below at What do I do now someone has died?, but using the Tell Us Once service is a quick way of doing this.
Even if you have used the Tell Us Once service (see below), it is sensible to check with both HMRC and the deceased's local council that they have been properly advised of the death.
What do I do now someone has died?
When the death is registered, you are often invited to use the Tell Us Once service.
Tell Us Once is available in England, Scotland and Wales. Northern Ireland has a Bereavement Service, but this only applies for social security/state benefits. You can find out more about the service on GOV.UK.
If you use Tell Us Once, the information you give is shared with many national and local government services and departments that need to know about the death. This should mean that HMRC and DWP are notified of the death so that the deceased's tax affairs can be resolved and any state benefits stop being paid.
If you do not or cannot use the Tell Us Once service, you must let the relevant government departments know about the death yourself.
Even if you have used Tell Us Once, it is important to check what needs to be done to finalise the deceased's tax affairs, and what tax matters need to be dealt with relating to the deceased's estate.
Also, a death can affect a surviving spouse, civil partner or other dependant's tax affairs, so it is important to consider those issues too. See our pages Death of a spouse or civil partner and What happens to property jointly owned by the deceased?
We understand that the Tell Us Once service does not cover student loans. You might know that the deceased had a student loan, or you might see from their payslips or tax papers that they were making repayments towards one. You will need to contact the Student Loans Company to get the loan cancelled.
Do I need to contact HM Revenue & Customs?
If you registered the death and used the Tell Us Once service you should not need to notify HMRC about the death, provided you opted at that time for HMRC to be notified. But it would be sensible to check this has been done – especially if you have not heard from HMRC after a few weeks.
If you could not use Tell Us Once, or chose not to, a relative or the personal representative for the deceased should contact HMRC on the Bereavement helpline to let them know about the death. You will need to provide HMRC with the deceased's full name and address and National Insurance number (NINO) or Self Assessment unique taxpayer reference (UTR), if possible. If you cannot find their NINO or UTR on payslips or correspondence from HMRC or DWP, you will need to provide them with as much information as possible to enable them to correctly identify the deceased. You will also need to tell HMRC the name, address and contact details of the personal representative for the deceased (if this is someone other than you).
Once they have been notified of the death, HMRC will write to the personal representative regarding any tax matters arising in connection with the death – for example, whether enough tax was paid by the deceased up to the date of death. But it is wise to check the situation out for yourself in the meantime – for example to see if a tax repayment needs to be claimed, or if there are outstanding tax returns to be submitted.
What is the Death Notification Service?
The Death Notification Service (DNS) allows you to notify a death to certain banks and other financial institutions with one notification. Not all banks are part of the scheme.
Using the service could save you some time and effort. It is not necessary to know all of the account details for the deceased, but the more information you can give the better. Note that if funds are likely to be needed urgently, for example to pay for the funeral, you should notify that bank separately before using the service.
The DNS will acknowledge the information, check the death and then the various institutions will contact the executors or personal representatives of the deceased. If these are not known at the time of notification, the details can be added later.
Where can I get professional help and/or further information?
See our separate page Getting help with bereavement and inheritance tax.