Disabled people and carers
Disabled people and carers
Disabled people and carers
The Low Incomes Tax Reform Group (LITRG) is not a disability organisation but we hope that this section will prove helpful in understanding tax and related benefits for disabled people and their carers.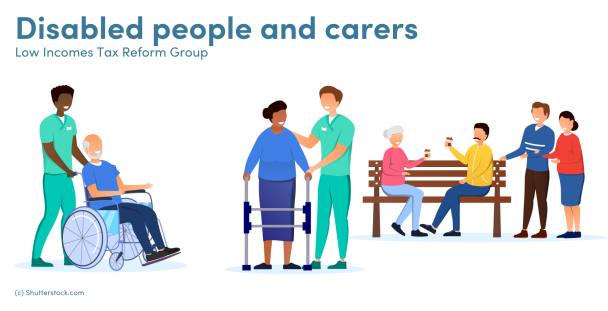 What can I find in this section of the website?
In this section, we provide information and guidance about tax issues relevant to disabled people and those with caring responsibilities.
In particular, we provide information on the following areas:
We also look at the rules and concessions around council tax for disabled people and carers in our other tax issues section.
HM Revenue & Customs (HMRC) manage the UK tax system. You can find their contact details on GOV.UK. A significant barrier for disabled people can sometimes be effectively communicating with HMRC either by phone or face-to-face. We give you some information about the different ways of contacting them if you have additional needs in the getting help section of this website.
Tax matters generally can be complicated, and the special rules for disabled people or for those who care for them, are even more so. If you do not think we have covered what you wanted to know, or would like to tell us of your experiences so we might learn and try and get things changed, please do contact us.
Where can I get more help?
If you want more information on any of the following areas, you can find it elsewhere on this website:
LITRG also has another website that you may find helpful:
RevenueBenefits: supporting information for advisers who get involved in HMRC-administered welfare benefits, and national minimum wage; including transitional information for the move of tax credits to universal credit.
Throughout this site we can only offer general guidance on tax topics that are most relevant to those on low incomes and you should always obtain specific advice before taking any action. You can find out where to get specialist help in our Getting Help section.