How do I claim tax credits?
⚠️ Universal Credit (UC) is a new benefit which will eventually replace tax credits, and some other social security benefits. Universal credit is now available across the UK and HMRC state that most people are no longer able to make a brand-new claim for tax credits and are expected to claim UC (or pension credit) instead. Existing tax credit claimants (under state pension age or in a mixed age couple) are expected to be moved across to universal credit by September 2024 following a pilot exercise involving no more than 10,000 people, although this may change due to the impacts of the coronavirus outbreak in the UK. You can find out more about this in our universal credit section.
How do I claim tax credits?
To get tax credits, you will need to make a claim. On this page we detail the process.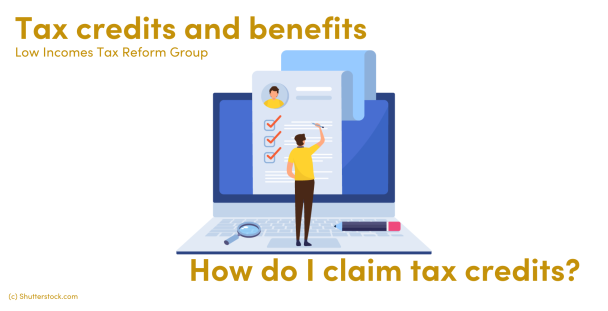 Can I claim tax credits?
Universal Credit (UC) is available across the UK. HMRC state that most people can no longer make a brand new claim for tax credits. We explain who can still claim tax credits on our who can claim tax credits page.
Where do I get a claim form from?
There is a tax credits calculator which can give you a rough idea about how much you may be able to get. HMRC stopped issuing paper claim forms from January 2019 and since then, anyone who needs to make a new claim will do so by telephone.
HMRC have also withdrawn the detailed notes that accompanied the form (TC600) but you can see an archived version from 2018 in the GOV.UK archive. (Please note that the notes are not kept up to date and explain the rules as they were in 2018/19).
If you are a frontier worker and wish to make a new claim for tax credits, HMRC say you should first attempt to make a claim for universal credit. DWP will then check your claim and if you meet the criteria as a frontier worker and are not permitted to claim universal credit, they will contact HMRC who will contact you about claiming tax credits. If HMRC do not contact you or you believe you are still entitled to make a new claim for tax credits (aside from being a frontier worker), you should telephone HMRC's tax credits helpline and the claim will be handled by telephone. If the adviser you speak to does not think you meet one of the exceptions, they may refuse to accept a claim. In such a case, if you believe you may be entitled to claim tax credits, you should insist on making a claim so that you receive a formal decision which carries appeal rights. If this happens, you may like to contact a welfare rights adviser for advice and support about your claim.
HMRC have confirmed that for people who are unable to contact them directly by telephone due to hearing or speech impairment, HMRC will continue to provide the Next Generation Text service and HMRC's Extra Support Team are able to arrange to deal with customers through face-to-face contact.
What happens after I make my claim?
HMRC will process your claim and check for any missing information. If they have all the information from you that they need to deal with your claim, they will make a decision whether to award tax credits or not. Sometimes, HMRC may need further information or want to carry out some checks on the claim. They may write to you for evidence to support your claim. You will need to ensure you send information back within the time limits set out in the letter HMRC send you. If this happens, it may mean HMRC's initial decision about your claim is delayed or HMRC may refuse your claim.
HMRC will make an initial decision on your claim. Normally, you will receive an award notice which will show the information they have used to decide your claim and your income information. If they decide you can get tax credits, they will tell you how much they have decided to pay and what your payments are. You should check this notice carefully to make sure they have got your details right as any mistakes might mean you get the wrong award and if it is too much, you might have to pay it back at a later date.
If anything is wrong, missing or incomplete, you should contact HMRC within 30 days of the date on your award notice.
If HMRC do not think you are entitled to tax credits, you will usually receive a letter telling you this and the reason why. If you do not think the decision is correct, you can ask for the decision to be reviewed and, if necessary, appeal against the decision by following the guidance in our appeals section.
Your payments will usually be paid straight into your bank account every four weeks, unless you have asked for weekly payments.
What happens next?
When HMRC first get your claim, they make what is called an initial decision. This is based on the information you have given on your claim form.
During the year, your award may change if you tell HMRC about a change of circumstances or a change in income. This is called an amended award.
After the tax year ends, HMRC will send you a 'renewals' pack. This does two things. It finalises the year that has just ended and acts as your claim for the new tax year. HMRC may ask you to confirm your income and circumstances for the year that has just finished and will send you a final decision on your claim. See our page on How do I renew my tax credits claim? for more details.
How do I claim if I already get tax credits?
If you already claim working tax credit and want to claim child tax credit or vice versa, you do not need to go through a new claim. You can phone the Tax Credit Helpline on 0345 300 3900 (textphone 0345 300 3909) or tell HMRC using the tax credit online service on GOV.UK and they will amend your claim.
What if my income is too high to claim tax credits?
Normally, when you claim tax credits, payments can only be backdated for up to 31 days (see our backdating section for more information). If you make a protective claim that starts at the beginning of the tax year, and your income falls, you will receive your entitlement for the whole tax year rather than just 31 days. People with protective claims are often called 'nil award' claims. Each year, HMRC remove Nil award claims from the system. They may write to you and tell you that unless you contact them by a certain date, your protective claim will not continue. You should seek advice before deciding to leave the system as once you do that, you are unlikely to be able to make a new claim if your circumstances change at a later date.