Working in the UK – information in Ukrainian available
⚠️ This is a news story and may not be up to date. You can find the date it was published under the title. Our Tax Guides feature the latest up-to-date tax information and guidance.
Working in the UK – information in Ukrainian available
Published on 22 June 2022
If you have recently arrived from Ukraine – welcome to the UK.
You may be looking for work or have a job waiting for you. We know it can be daunting living and working in a new country, especially if this is your first time or you don't speak English well.
This article explains what guidance is available to help you understand the various systems you may come into contact with if you are working in the UK.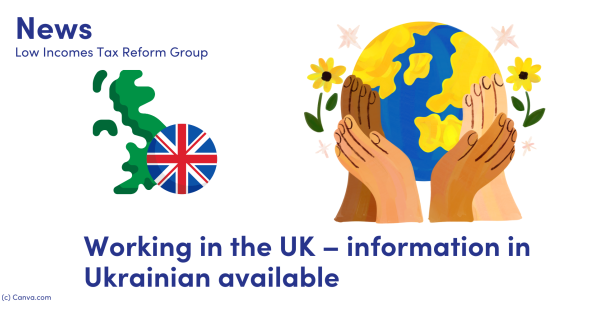 Ця сторінка доступна українською нижче.
The UK Government have a welcome guide for Ukrainians arriving in the UK. This guide touches briefly on finding a job and paying tax. It is available in Ukrainian via the language toggle at the top.
There are other GOV.UK pages available in Ukrainian, which may be helpful to you, listed here.
The UK Government's guidance gives brief information about how you pay taxes if you are working in the UK:
If you are employed, the money for tax usually comes straight out of your salary.


If you are self-employed, you need to complete a tax return each year and pay the tax to HM Revenue & Customs (the UK tax authority) directly.
If you have any questions about your pay, tax or benefits position if you work in the UK, we have free guidance to help you.
For useful information on how to translate the guidance on our website from English to Ukrainian you can use a translation tool such as Google Translate. However, we cannot guarantee the accuracy of any translation tool that you may choose to use.
Our guidance is split into easy–to-use sections. If you are working in the UK, the following sections may be relevant:
If you need to speak to HMRC in Ukrainian, we set out the options available to you in our guidance. For example, you can ask a friend or family member to translate for you or ask HMRC to arrange an interpreter.
Other useful information for workers available in Ukrainian
The Gangmasters Licensing and Abuse Authority (GLAA) is an organisation that enforces worker rights. They produce a leaflet in Ukrainian and other languages. This includes information about the minimum wage, holiday pay and payslips.
There is an accompanying checklist in Ukrainian to help you understand your worker rights.
A message from the head of the GLAA setting out their support for Ukrainians arriving in the UK can be found here. Although it is in English, you could use a translation tool to translate it into Ukrainian.
There is a GLAA reporting form in different languages (unfortunately not Ukrainian, but some other languages you may be familiar with) where you can report employers or labour providers who are exploiting workers. The UK labour market enforcement teams can then investigate the employer or labour provider.
The Health and Safety Executive (an organisation that enforces workers' health and safety rights) have produced a leaflet in Ukrainian for workers from overseas to explain your health and safety rights if you work in agriculture or food processing. It tells you what to expect from your employer and what you need to do yourself.
There is also some more general health and safety guidance for workers in different languages (not specifically Ukrainian but some other languages you may know).
Робота у Великобританії – інформація доступна українською
Якщо Ви нещодавно приїхали з України – ласкаво просимо до Великобританії! Можливо, Ви шукаєте роботу або робота чекає на Вас.
Ми знаємо, що жити та працювати в новій країні може бути складно, особливо якщо Ви вперше за кордоном або погано розмовляєте англійською.
У цій статті пояснюється, які є доступні матеріали, щоб допомогти Вам зрозуміти різні системи з якими Ви можете зіткнутися, якщо працюєте у Великобританії.
Уряд Великобританії уклав вітальний путівник для українців, які прибувають до Великобританії. У цьому посібнику коротко розповідається про пошук роботи та сплату податків. Він доступний українською мовою через перемикач мови вгорі.
Є й інші сторінки GOV.UK, доступні українською мовою, які можуть стати вам у нагоді, їх перераховано тут.
Путівник уряду Великобританії містить коротку інформацію про те, як сплачувати податки, якщо Ви працюєте у Великобританії, що в цілому виглядає наступним чином:
Якщо Ви найманий працівник – гроші на податки зазвичай утримуються прямо з Вашої зарплати
Якщо Ви самозайнятий – Вам потрібно щороку заповнювати податкову декларацію та сплачувати податок безпосередньо до HMRC (Her Majesty's Revenue and Customs) (податковий орган Великобританії).
Якщо Ви потребуєте більш детальної інформації або у Вас виникли запитання щодо Вашої зарплати, податків чи пільг, якщо Ви працюєте у Великобританії, ми створили веб-сайт, наповнений безкоштовними інструкціями, які Вам допоможуть.
Щоб отримати корисну інформацію про те, як перекласти інструкції на нашому веб-сайті з англійської на українську, Ви можете скористатися будь-яким інструментом перекладу, наприклад - гугл–перекладачем. Втім ми не можемо гарантувати точність перекладу будь-яким з обраних Вами інструментів.
Наші інструкції розділені на прості у використанні посібники, які включають такі ключові теми, якщо ви працюєте у Великобританії:
(Tax Basics) Основи оподаткування: інформація про доходи, які підлягають оподаткуванню, податкові пільги, податкові ставки та отримання номера національного страхування;
(Employment) Працевлаштування: які податки Ви сплачуєте, якщо Ви найманий працівник а також інформація про мінімальну заробітну плату, роботу через агентство та щодо відшкодування податків;
(Self-employment) Самозайнятість: як розрахувати свої прибутки та збитки та як сплатити податок з доходів приватних підприємців;
(Migrants) Мігранти: питання оподаткування трудових мігрантів, включаючи резиденство та місце проживання, а також те, як Ваш іноземний дохід може оподатковуватись у Великобританії;

(Tax credits and benefits) Податкові пільги та переваги: допоможе переконатися, що Ви отримаєте адекватні пільги та переваги (включаючи універсальний кредит);

(Childcare) Догляд за дітьми: цей розділ пояснює різні державні схеми догляду за дітьми та як вони взаємодіють.
Якщо Вам потрібно звернутися до HMRC українською, ми викладаємо доступні Вам варіанти в нашому путівнику на веб-сайті. Включаючи прохання до друга або члена родини про переклад або прохання до HMRC організувати перекладача.
Інша корисна інформація для працівників доступна українською мовою
Gangmasters and Labour Abuse Authority (GLAA) - Управління з ліцензування роботи та протидії зловживанням – організація, яка відстоює права працівників, а також випускає інформаційні матеріали українською та іншими мовами. Зокрема щодо інформації про мінімальну заробітну плату, відпускні та квитанції про заробітну плату.
У наявності є супровідний контрольний перелік українською мовою, який допоможе Вам зрозуміти свої права працівника.
Повідомлення від голови GLAA про підтримку українців, які прибувають до Великобританії, можна знайти тут (хоча воно англійською мовою, Ви можете скористатися інструментом перекладу, щоб здійснити його переклад українською).
Також існує формуляр подачі скарг до GLAA на роботодавців або постачальників робочої сили, які експлуатують працівників. Формуляр доступний різними мовами (не українською, але деякими іншими, які Ви, можливо, знаєте). Таким чином групи правоохоронних органів на ринку праці Великобританії зможуть потім розслідувати роботодавця або постачальника праці.
Управління охорони здоров'я та безпеки (організація, яка захищає права працівників на здоров'я та безпеку) також випустила листівку українською мовою для працівників з-за кордону, щоб пояснити Ваші права на здоров'я та безпеку, якщо Ви працюєте в сільському господарстві чи харчовій промисловості. Листівка поінформує Вас, чого слід очікувати від свого роботодавця, а що необхідно буде зробити самостийно.
Є також деякі більш загальні інструкції з охорони праці для працівників різними мовами (не українською, а деякими іншими мовами, які Ви можете знати).
Дякуємо волонтеру, який надав цей переклад.
Contact: Meredith McCammond (click here to Contact Us)
First published: 22/06/22